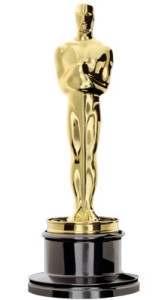 As you no doubt know, the Academy Awards are given out each year to films that the movie industry (business) considers the best from the previous year. This year's ceremony (event) will be held on February 28th.
I have a confession to make (something shameful or embarrassing to tell you): I haven't seen any of the nominated (proposed to win) films. However, I will probably watch at least part of the Academy Award ceremony on TV, so it's useful to know at least something about the nominated films.
If you're out of it (not informed) like I am, here is a list of the seven nominated films for the coveted (wanted very much) award for Best Picture (film; motion picture). I've taken the very short synopses (brief summaries) of each of the nominated films below from the popular movie ticket website Fandango.
THE BIG SHORT
"When four outsiders (people who do not belong to a group) saw what the big banks, media and government refused to, the global (world) collapse (complete destruction) of the economy, they had an idea: The Big Short."
"To sell short" means to borrow stock shares from someone else who owns them, sell those stocks, and pocket (take) the earnings. But at some point, you must buy back the stocks to give them back to the owner. If the price of the stock falls in the meantime (in that period of time), you can buy them back at a lower price and you make money, but if the price goes up, you will have to spend more money to purchase them back, losing money. I believe that's what the film's title is referring to, but of course I haven't seen the film, so that's just my guess.
BRIDGE OF SPIES
"James Donovan, a Brooklyn lawyer, finds himself thrust (pushed forcefully and suddenly) into the center of the Cold War (the period between 1945-1990 of political problems between the U.S./other Western nations and the Soviet Union) when the CIA sends him on the near-impossible task to negotiate the release of a captured (taken by force) American U-2 (type of airplane that can fly very high and is used for surveillance (spying; secretly watching)) pilot (person who operates an airplane)."
BROOKLYN
"'Brooklyn' tells the profoundly (deeply; greatly) moving story of Eilis Lacey, a young Irish immigrant (person who has moved to a new country to live) navigating her way (finding her path) through 1950s Brooklyn (one of five boroughs or areas in New York City)."
MAD MAX:  FURY ROAD
"From director George Miller, originator (inventor; creator) of the post-apocalyptic (related to a period after a major disaster, such as nuclear war) genre (type of entertainment) and mastermind (intelligent person who plans something complex and clever) behind the legendary (very famous) Mad Max franchise (with many films, parts, or locations), comes Mad Max: Fury Road, a return to the world of the Road Warrior (fighter), Max Rockatansky."
THE MARTIAN
"During a manned (with a human in control) mission (assignment, usually involving travel) to Mars, astronaut (person trained to go into outer space) Mark Watney is presumed (believed to be) dead after a fierce (very strong) storm and left behind by his crew (group who work together). But Watney has survived and finds himself stranded (left without a way to leave) and alone on the hostile (unfriendly) planet."
THE REVENANT
"Inspired by (take from) true events, The Revenant is an immersive (making you feel like you're there) and visceral (involving deep inner feelings) cinematic (film) experience capturing (taking and expressing) one man's epic (involving a long journey with many parts) adventure of survival (trying to stay alive) and the extraordinary power of the human spirit (inner strength, thoughts, beliefs, etc.)."
The word "revenant" means someone who has returned, usually after a long period of time, and who was believed to have been dead. This is not a commonly-used word, however.
ROOM
"Both highly suspenseful (making you feel like you really want to know what happens next) and deeply emotional, Room is a unique (not like others) and touching (making you feel strong emotions) exploration of the boundless (without limit) love between a mother and her child."
SPOTLIGHT
"A group of Boston Globe reporters uncovers (shows to the public a secret or something hidden) a shocking (causing surprise in a negative way) cover-up (attempt to prevent others from knowing something bad or illegal that one has done) that would rock (have a major effect on) the city and cause a crisis (terrible trouble) in one of the world's oldest and most trusted institutions (long-established organization)."
…
Now that I've read more about these films, there are several I want to see. But I'm usually very behind (slower than others) in seeing movies.
How about you? Have you seen any of these contenders (people/things that could win)? Any you haven't seen that you'd like to see? Any films you think should have been nominated but weren't?
~ Lucy
Image Credit: From Wikipedia