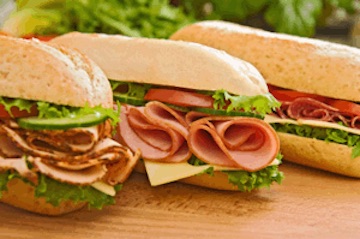 In Shakespeare's play Romeo and Juliet, his family and her family hate each other. But Juliet tells Romeo that "A rose by any other name would smell as sweet." In modern English she might have said, "I don't care what your family name is; it doesn't change who you are."
Names may not change what something is, but names often tell us a lot about the thing we're talking about. That's true about sandwich names, which often tell us not only what's in the sandwich, but also something about its history.
The sandwich – two pieces of bread with meat, cheese, or other foods in between, usually eaten by hand – was named after John Montague, 4th Earl of Sandwich (1718-1792), a nobleman of the historic town of Sandwich in England. Montague loved to gamble (trying to win money by playing games) and once spent 24 hours at the gambling table eating nothing but some pieces of cold beef between two pieces of bread.
In the U.S., the submarine (see photo) is a popular sandwich. Its name comes from the shape of the roll (the bread), which is similar to the shape of a submarine (a ship that travels under water). In a submarine sandwich, the long roll is sliced (cut) the long way and often has a thick crust (skin; outer layer).
Submarine sandwiches probably began among Italian Americans in the northeast part of the country in the early 1900s. The roll was filled with cold cuts (thin pieces of cold meats), cheese, lettuce, tomatoes, and a variety of condiments (spices and other things added for flavor). Since 1965, Subway sandwich shops have helped the submarine sandwich, or "sub," become popular in many other countries.
When you travel around the U.S., you'll find sandwiches that look like subs but go by (use) different names. In New York and New Jersey, for example, a sub-like sandwich called a "hero" is popular. Heros are similar to the subs described earlier, but you'll also find them filled with eggplant or chicken with Parmesan cheese or meatballs. It's uncertain how heros got their name, but some think it's because they were extra large.
"Hoagie" sandwiches come from Philadelphia. Like most sandwich names, we're not sure how the name hoagie started. It probably comes from the sandwiches eaten by the ship workers on Hog Island near Philadelphia. Their sandwiches, with various meats, cheeses, and lettuce between two slices of bread, became known as Hog Island sandwiches, then hoggies, and finally, since about 1940, hoagies. In 1992, the hoagie was named the official sandwich of Philadelphia.
Subs, heros, and hoagies all have an Italian flavor, but if you go to New Orleans you'll find a French American sandwich called the "po' boy" (poor boy). Po' boys are made on French bread rolls similar to baguettes and can be filled with fried oysters, shrimp, and fish as well as other meats. The sandwiches and the name po' boy probably appeared sometime around 1930 when the Martin brothers made and sold sandwiches for just a few pennies each at the back door of their restaurant to streetcar workers – called "poor boys" – who had lost their jobs.
These sandwiches are all similar because of their shape. Do you have similarly-shaped sandwiches where you live? What are they called? And what's in them?
~ Warren Ediger – ESL tutor and coach and creator of the Successful English website.
Photo from Fast Food Menu Prices.