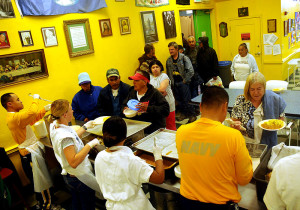 In the same spirit (idea and feeling) as Warren's great post about random acts of kindness, I'll talk a little about giving.
Americans often talk about the holiday season, the period between Thanksgiving and New Year's Day, as "the season for giving." It's the time of year people are most willing to give their money, their time, and other things to help the needy (very poor people). Many charities (organizations to help others) collect the most money and other support during this period.
To encourage people to open their wallets (spend; give money), some cities and organizations are offering forgiveness (removal; dismissal) of fines (money paid as punishment for doing something wrong or against the law) in exchange for a little giving.
For instance, in Lexington, Kentucky, if you get a parking ticket (citation for parking in the wrong place or without paying the proper fee), you can get $15 off (reduction) if you bring in 10 cans of food when you pay your fine. In 2014, the program collected 6,000 cans of food, which were donated (given for free) to the local food bank (organization that collects food to give to the poor).
In the city of Boston, Massachusetts, if you get a parking ticket between certain dates in December, you can have the fine dismissed (removed) if you donate a new and unwrapped (not covered in gift-giving paper) toy of equal or greater value (worth more money) than the amount of the ticket. The toys are given to children who might otherwise (without this) not receive a gift for the holidays.
The public library in Williamsburg, Virginia wants to forgive, too. The library will remove a fine for any single (one) overdue (not returned on time) item in exchange for a donation of a nonperishable (able to be kept for a long time before eating) food item, no matter how large the fine.
The main aims (goals) of these efforts is to encourage people to give and to garner (get; gather) goodwill (friendly feeling). The hope is that people will get accustomed to (used to) giving and give not only during the holiday season, but throughout the year.
The people who have their fines reduced or removed feel good about helping others, and the organizations plant the seed (give the idea; provide a start) for future giving. That's what I call a win-win (something beneficial for all)!
I hope that you experience lots of kindness and generosity (giving easily to help others) throughout the holiday season. And on behalf of (speaking for) everyone here at ESL Podcast, we hope that your New Year is filled with good health and good cheer (happiness; joy)!
~ Lucy
Photo Credit: From Wikipedia