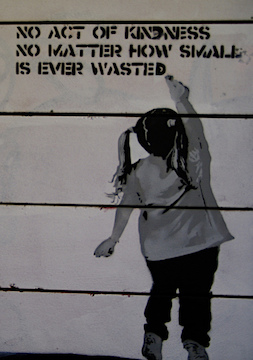 2015 has not been a year that made it easy to think about peace, hope, and joy – words we often use at this time of the year as we celebrate the holidays.
We can't change what's happening in the world, but we can do something to introduce peace, hope, and joy to the parts of the world we live in. It's something I've been thinking about a lot for the last few days. And as I did, three ideas, or thoughts, came to mind.
Thought one: Even in the worst situations, we can choose to be good.
Viktor Frankl and his wife, like many other Jews during World War II, were sent by the Nazis to the Auschwitz concentration camp (prison for many people). Frankl, a psychriatist (doctor who treats mental illness), survived. His wife didn't. In a book he wrote after the war, Frankl said that his experience taught him that there was one thing the Nazis couldn't do: they couldn't take away his freedom to be himself.
Thought two: If enough people do small acts of kindness, they can make a difference and be noticed by others.
George H. W. Bush – the first president Bush – frequently spoke about the need for people and organizations to do good. If they did, he suggested, all their good deeds would "spread like stars, like a thousand points of light in a broad and peaceful sky."
Thought three: All of us can practice random acts of kindness.
While having lunch one day, Anne Herbert came up with the idea of practicing "random (not planned or organized) acts of kindness…." A random act of kindness is a selfless (caring more about other people than yourself) act you do to help or encourage someone else. Her book Random Acts of Kindness has encouraged thousands of people and organizations to do exactly that.
So, what can we do? Here are some ideas from a variety of sources:
Be generous with compliments (praise or congratulations for someone). The next time you see someone doing something well, let them know you saw them.
Volunteer to help at a community center program for older or disadvantaged people. If you can't, occasionally drop in for a few minutes, sit down, and chat with the people who are there.
Leave a book you enjoyed where someone will find it and hope they will enjoy it as much as you did.
Let the person behind you in line go ahead of you.
Find a nice piece of clothing you haven't worn for a while. Take it to a place that will give it away, free, to someone who needs it.
Thank your mail carrier, your barista (person who makes coffee drinks), or the janitor (person who cleans) where you work. If you don't know their name, introduce yourself; you can thank them by name the next time.
The next time you see a mother or father with their children, look them in the eye and smile at them in a way that says, "You're doing a great job!"
The next time you order a snack or drink, leave a ten-dollar tip.
Write a simple message, like "You are important" on a pile of cards and leave them in various places, like under the windshield wiper of someone's car, where people will find them.
There are many easy ways to help make our world a better place. All of us can do something. And we should.
What ideas do you have for random acts of kindness? Use the comments to make a list. Also, if you've received or done a random act of kindness, tell us about your experience.
Happy holidays to all of you … and peace, hope, and joy.
~ Warren Ediger – English coach/tutor and creator of the Successful English website.
Photograph by David used under Creative Commons license.