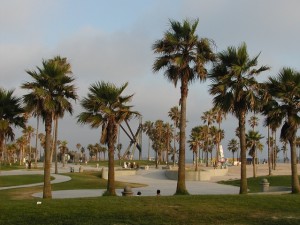 I'm looking forward to a little break over the holidays.* Here are three things I hope to do with my extra time, besides the actual celebration of Christmas itself:
1. Visit the Los Angeles County Museum of Art – My friend Warren told me a few weeks ago that there is an exhibition (an art show) there about Los Angeles architect Frank Gehry. I'm a fan of architecture, so it should be fun to see.
2. Read Back Issues of My Magazines – I subscribe to a lot of magazines, but don't always have time to read them. So I have a big stack (pile; one set atop the other) of back issues (old editions) that I plan on reading while sitting at a local cafe. I especially like book review magazines, which contain articles and summaries of current (recently published) books. The ones I read regularly are the Times Literary Supplement, The London Review of Books, and Literary Review. But I have a lot of other magazines on my tablet as well – too many to mention!
3. Walk on Venice Beach – I live just a few miles from the Pacific Ocean, but I almost never go down to the beach and take a walk. Why? Well, like a lot of Angelenos (people who live in Los Angeles), I like the idea of going to the beach, but not the hassle (problems) of parking and traffic. But one nice thing about living in L.A. is that lots of people leave the city during the holidays, so there are actually fewer people here at the end of December than most other times of the year. Perhaps I'll take a little New Year's Day walk near the ocean to begin my 2016.
What are three things you plan to do over the holidays?
~Jeff
* over the holidays – during December and first week of January, when many Americans take a vacation for Christmas and/or Hanukkah and New Year's Day
Photo image credit: Wikipedia