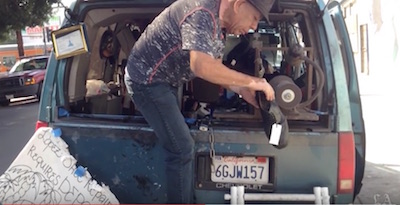 If you're in Los Angeles and need to repair your shoes, head over to (go to) Echo Park, to Lopez Shoe Repair. You won't be disappointed.
To find Lopez Shoe Repair, first look for Señor Fish, a Mexican restaurant and bar. When you find it, Rafael Lopez's shoe repair shop – a 1992 Chevrolet Astro van – should be parked not too far away.
Rafael is one of that group of people I introduced last time – people you don't usually notice but that help make a city like Los Angeles strong.
Steve Lopez (no relation to Rafael) writes that Lopez and his wife owned a small shoe factory in Mexico. But when they came to Los Angeles more than thirty years ago, starting a shoe factory here was too expensive, so they began repairing shoes. They worked on sidewalks and street corners and wandered (moving around without a specific idea of where to) from place to place until they discovered Echo Park.
The Lopezes raised four children on money from repairing shoes. Two of them are in college. Rosario, who is working on her master's degree, says that her parents "wanted us to do better than them and they wanted us to go to college." Like many children, she says "she didn't understand her parents' sacrifice (not having something so you can get something that's more important) when she was younger, but she greatly appreciates it now."
Lopez and his wife separated several years ago. She has her own shoe repair van and parks it in another part of Los Angeles, near MacArthur Park.
Lopez tried sharing a small apartment, but that didn't work out. So he bought another van – a 20-year-old GMC Safari – and lives in it. He sleeps on a mattress (soft part of a bed that you lie on) in the back of the van and watches a television set he has attached to the van's ceiling. He uses the restroom at a McDonald's. And a restaurant owner in the neighborhood lets him park his van in their parking lot every night.
He's applied for a subsidized (part of the cost is paid by someone else) apartment, but it may take months, even years, before one becomes available.
Steve Lopez writes that Rafael Lopez could complain about a lot of things. He's 71. He still has to work to survive. He often works 10 hours a day. His health isn't as good as it used to be. He's living in a van. But he refuses to complain.
He says that "Los Angeles is a great and beautiful place." And, because of the work he does, he's made a lot of friends. Some of them drop by from time to time to spend time with him.
"I'm surviving," he says. "Work is good for your health."
You can meet Rafael in this short video produced by Steve Lopez.
~ Warren Ediger – ESL coach/tutor and creator of the Successful English web site.
Adapted from a Los Angeles Times article by Steve Lopez.
Photo: screenshot from YouTube video.