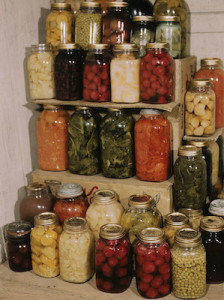 Last week my friend Don gave me something that reminded me of (made me remember) my childhood – pickled beets (a plant with round dark red roots eaten as a vegetable) in a Mason jar. Let me explain.
Years ago, people who grew their own vegetables and fruit had to preserve them (do something so they wouldn't become bad) so they could keep them for a long time. They used several different methods to preserve their food:
Drying – removing the water from it.
Curing (used for meat) – drying it, hanging it in smoke, or covering it with salt.
Pickling – putting it in vinegar (a sour-tasting liquid) or salt water.
Freezing – keeping it at a very low temperature.
Canning – putting it into a container that all the air had been taken out of.
My mother and grandmother canned a lot of vegetables and fruit every year. If you went down into my grandmother's cellar (area under the house), you would have seen shelves full of canned food like those in the picture. You would have also seen cured hams (meat from the upper part of a pig's leg) and sausage (a tube, or round container, of skin that had been filled with a mixture of meat and spices).
The idea of canning your own food first appeared in the early 1800s and was made popular by Nicholas Appert, a French cook.
When someone cans their own food, they put the food into glass jars, like those in the photo. My mother, grandmother, and probably everyone else used Mason jars. The Mason jar was designed especially for canning in 1858 by an American named John Mason. For many years the Ball Corporation (company) made most of the Mason jars. People who can today still use Mason jars.
Home canning was necessary for people who grew their own food until refrigerators made it possible for them to freeze their food at home. During the 1800s, some companies began to put canned food into cans (metal containers) that were similar to what we see at the supermarket today. However, the canned foods we buy today didn't appear in stores and supermarkets until the early part of the 1900s.
Home canning made a comeback (became popular again) in the 1960s and 70s and its popularity continues to grow. Today it's part of a larger trend (the way something is changing) called artisanal food – home-grown food prepared in traditional ways. A growing number of people can food for their family to eat. Others prepare it to sell at farmer's markets similar to the outdoor food markets that have been popular in Europe and other countries for many years.
My wife tells me that we're having the pickled beets for dinner tonight. I hope they taste as good as they look!
What about where you live? Do people can fruit or vegetables? What about using traditional ways to make or do other things?
~ Warren Ediger, ESL tutor/coach and creator of the Successful English web site.
Photo of canned food is from Wikipedia Commons.