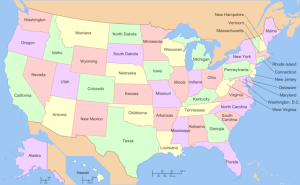 If you read the news, you'll often see one country compared to others using many different indices (measures; the singular is "index"). Many times, these indices have to do with political, economic, and social comparisons (looking for similarities and difference between two or more things).
I've come across an easy way for each of us to compare countries for a rough (approximate; not precise) idea of what it would be like living another country. If you visit the ifitweremyhome.com website, you can compare your country with another country using several common indices. First, look at the thin blue box in the center of the homepage to make sure the website has automatically determined (found; decided) that you're in the correct country. Then, click on the name of any other country you see below.
The first thing you'll see is a size comparison. For example, when I compare the United States with Japan, the outline (shape without the details) of Japan is superimposed (visually placed on top of) over a map of the United States, showing its relative (compared to each other) size. Then, I see a list of comparisons using several common factors.
The website uses several different sources of information for its data (information in numbers), but here are some definitions for common indices.
– Unemployment rate: The number of adults who don't have jobs out of the total workforce (total number of people who can and are available to work).
– Infant mortality rate: The number of deaths of children under one year old out of every 1,000 live (not dead) births.
– Rates of incarceration: The number of people in prison out for every 100,000 people.
– Resource consumption: The amount of electricity, oil, and other resources people or households (everyone living in one home) uses.
– Murder rate: The number of people killed out of every 100,000 people.
– Birth rate: The number of live  babies born for every 1,000 people.
There are others, but these are the main comparisons.
Try doing a few comparisons yourself. If nothing else (even if you don't benefit any other way), the size comparisons between countries are interesting, at least they were to me. Are you finding any surprising results?
~ Lucy
Image Credit: From Wikipedia