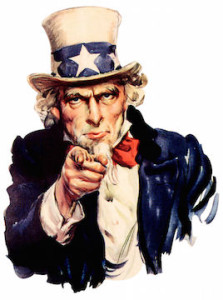 Every week from 2003 to 2010, on the television program Cold Case, detective Lily Rush found ways to solve (find an explanation for) crimes that no one else had been able to solve. A cold case is a crime or accident that has not been solved, often for many years (for more about cold cases, listen to Podcast 974).
Sometimes new information surfaces (becomes known) that makes it possible to solve a cold case. Sometimes, however, the new information adds to the mystery (what we don't know or aren't sure about). And that's what seems to have happened in the case of Uncle Sam – a symbol (something that represents or stands for) of the United States. That's him in the photo.
Some of you may remember the story of Uncle Sam from English Cafe 309. At that time, most people believed that the name came from Samuel Wilson, who, in 1813, received a contract (written agreement) to supply meat for the U.S. Army during the war with England. The letters "U.S." – for United States – were printed on every container of meat, but someone – as a joke – suggested that U.S. meant Uncle Sam. People began to use Uncle Sam to refer to the United States, and this use became very popular about 100 years later, during World War I.
I recently discovered that the use of Uncle Sam to refer to the U.S. may not have come from Samuel Wilson. A couple of years ago, Barry Popik, a kind of "word detective," found Uncle Sam used to refer to the U.S. in a newspaper that was printed in 1812, about one year before Samuel Wilson received his contract from the government.
And since then, other researchers have found new evidence (facts, information) that suggests that Uncle Sam was used even earlier, in 1810.
Isaac Mayo was a young U.S. Navy sailor (someone who works on a ship). Here's what he wrote in his journal (personal record of things that happen) on March 10, 1810:
[We] passed Sandy Hook (town in New Jersey), where there are two light-houses, and put to sea, first and second day out most deadly seasick, oh could I have got on shore in the [height] (worst) of it, I swear that uncle Sam, as they call him, would certainly forever have lost the services of at least one sailor (In other words, the storm was so bad that he would have quit the Navy if he could.).
So, where did Uncle Sam come from? We thought we knew. But now we're not so sure. And until new evidence surfaces, we may have to think of Uncle Sam's origins (where something began) as a national cold case.
~ Warren Ediger – ESL coach/tutor and creator of the Successful English web site.
This post includes information from "New Light on 'Uncle Sam'" by Ben Zimmer.
Photo of Uncle Sam from Wikipedia Commons.