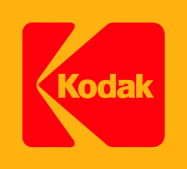 "You press the button … we do the rest."
That was the promise made in 1888 by the Eastman Kodak company when they introduced their first camera. Here's how they described it:
"It's the easy-to-use camera for everyone. There's no control for the exposure time (how long the shutter is open) or aperture (how much light is allowed into the camera) – you simply point the camera and click (push the button to take the photograph). The whole camera with 100 pictures must be sent back to KODAK after exposure (the photographs have been taken) and is returned with the finished circular (round, like a circle) photos and a freshly loaded (new) film."
When Kodak introduced the first point-and-click (automatic) camera, they promised to provide everything the everyday photographer needed: camera, film, developing the film (making the picture visible), and printing the picture on photographic paper.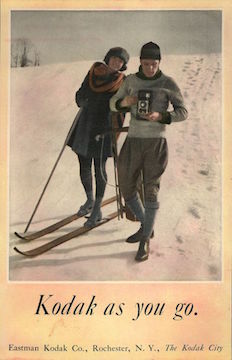 Soon after they introduced their first camera, advertisements like this "Kodak as you go" advertisement turned the word "Kodak" into a verb and encouraged people to take their Kodak cameras wherever they went. Kodak ads (advertisements) had one very simple message: Kodak cameras, film, and processing (preparing the photographs) make it easy to photograph life's important moments (times, events) so they will never be forgotten. These moments came to be known as Kodak Moments.
Kodak Moments were an important part of Kodak's advertising for many years. They advertised heavily (a lot) in magazines that were popular in the middle of the 20th century – like Saturday Evening Post and Life. And when television appeared, they ran (broadcast) ads like Turn Around in 1960 and Daddy's Little Girl in 1989.
Many people have filled walls, albums (books of photos), and boxes with Kodak Moments – Christmases, birthdays, baby and wedding showers (parties for someone having a baby or getting married), weddings, and vacations.
The phrase "Kodak Moments" has became a common way to refer to moments of strong feelings or special memories, even if photographs aren't taken to help remember them. And, in contrast, someone might say, "What a Kodak Moment!" when they mean the opposite, perhaps as an unkind joke or to show that they are a little angry. This what we call sarcasm.
For many years, Kodak continued to make Kodak Moments possible with new, easy-to-use cameras, new kinds of film, and all the services needed to help everyone make photographs of their important personal moments. Unfortunately, Kodak's moment (period of time) didn't last. They couldn't compete with digital and smartphone cameras and, since 2012, no longer do most of the things that made Kodak Moments possible.
~ Warren Ediger, ESL coach/tutor and creator of the Successful English web site.
Photo of Kodak logo from Wikipedia Commons;
photo of Kodak advertisement from Vintage Ad Browser.