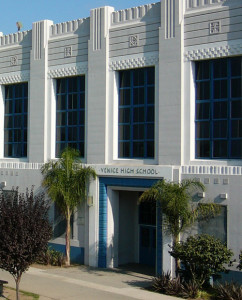 Labor Day, observed (celebrated; scheduled) on the first Monday of each September, is the unofficial beginning of the school year at many schools (see English Cafe 49). This year, Labor Day is next Monday, September 7th.
As high school students return to school, I can predict which high schools will have students with better grades and which high schools will have students with poorer grades.
No, I don't have a crystal ball (glass ball used to see the future). Instead, I've read about research findings (results) showing that schools that begin later in the morning have students who typically perform better in their classes. One study of over 9,000 students in the U.S. found that students in schools that began at or after 8:35 a.m. earned grades that were significantly higher, so that a "B" or "C" grade became "B+" and "C+" grades.
Grades are used to calculate (give a numbered total for) a student's grade point average (G.P.A.), which is a single number that indicates that student's overall school performance. A student's G.P.A. is used for many things, including college admissions (being allowed to study at a college or university). Here's how it works: Each letter grade equals a certain number of points: "A" = 4.0, "B" = 3.0, "C" = 2.0, "D" = 1.0, and "F" = 0.  A "+" added to a grade is worth another 0.5 points, so the difference between getting a "B" and a "B+" or a "C" and a "C+" is significant (important).
The explanation behind these findings may be found in teenagers' changing bodies. When people reach ages 13-19, their circadian rhythms — their natural "body clock" — change and teenagers stay up (remain awake) later at night and sleep later in the morning. A later start time for school matches (is in agreement with) this change in the teenage brain.
Other research has found that later start times for school are also related to fewer car crashes (accidents where two cars hit each other) among teenage drivers. In a 2008 study, when a school delayed (made later) its start time by one hour, students reported fewer and fewer car accidents over the next two years, dropping over 16%. The researchers concluded that students slept more hours and as a result, were more alert (awake; aware of what is happening around them).
Some of the arguments against starting school earlier have to do with logistics (planning and organizing). American high school students often participate in after-school activities, such as sports and clubs. A later start time leaves less time for these activities. And school buses that transport high school students in a single district (collection of schools under one management) also transport elementary and middle school students, making changes in scheduling more difficult.
Every high school's start time is different. Venice High School, the high school nearest to where I live, begins at 7:57 a.m. Jeff's high school in Minnesota and mine in Arizona just happened to have (occurred by chance and not through planning) begun at the same time: 8:10 a.m. Now I have an excuse (reason or explanation) for my grades, although Jeff clearly overcame this obstacle (succeeded despite this difficulty).
Is the school year beginning where you live? What time did the school day begin when you were in high school? Is it different now?
– Lucy
Photo Credit: Venice High School from Wikipedia. Venice High School has been used as the location for several famous films, including Grease and Nightmare on Elm Street, and for several music videos, including one by Britney Spears.