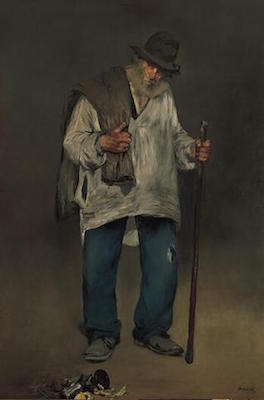 The Norton Simon Museum in Pasadena, California is shaped like a large "H". If you walk across the middle of the "H" to the left leg and look left, you'll see the Ragpicker – a painting by Edouard Manet. He hangs on the wall at the bottom of the "H" and, I imagine, keeps an eye on (watches) everyone who walks through the galleries (rooms for showing art) that display (show) the Museum's modern art.
I've always been fascinated by (attracted to; curious about) this life-size painting of such a humble (not important) man. Ragpickers were early recyclers. They walked around cities, Paris for Manet's Ragpicker, and picked up rags and other objects that could be sold to people who recycled, or reused them. Rags were used to make paper.
Manet was one of several painters of his time who painted the everyday people of Paris. They weren't wealthy. They weren't powerful. And many people probably didn't notice them. But they were an important part of Parisian life.
I thought of Manet's Ragpicker when I read about Sarah Godfrey's recent experience. She was at the Park Street subway station under the streets of Boston, Massachusetts, when she saw what she described as "a nice old man who was picking up garbage at the train station on his way to work."
Sarah walked up to him and remarked, "What a good citizen you are!" He was grouchy (in a bad mood), she said, and complained that the stations were always filthy. She agreed.
She was uncomfortable when she watched him reach down to pick up a "food wrapper and what looked like a used napkin" and reminded him to "make sure he washed his hands when he got to work."
He looked at her and replied, "That's what my wife says."
When they got to the top of the stairs, he threw the trash he had picked up into a trash container, then turned to Sarah and asked, "How many ex-governors do you think go around picking up trash at train stations?"
Sarah said that she laughed and said, "Not many." She thought for a moment, then asked if he had actually served as governor of Massachusetts.
"Yes, for 12 years," he answered, and she realized that she had been talking to Michael Dukakis, the former governor of the state.
Hmm. I wonder how many ex-governors – or anyone else – go around picking up trash to try to keep their cities clean. Probably not many.
~ Warren Ediger – ESL coach and tutor and creator of the Successful English web site.
Photo of Ragpicker from Wikipedia Commons.