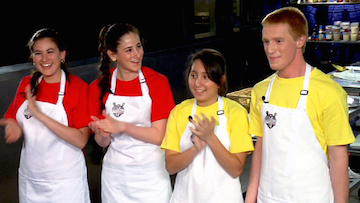 I ran across (found by chance) some interesting advice recently in the On Parenting (about being a parent) section of the Washington Post newspaper:
"Every kid 16 and older should be making the entire dinner once or twice a week as one of their chores (regular responsibilities). And kids 12 and older should be responsible for at least making one dish at every family meal."
The writer believes that we need to prepare our children to be self-sufficient (able to take care of themselves) when they leave home to go to school or begin their first job. Teaching them to cook – and giving them opportunities to practice cooking – is part of that preparation.
If we prepare our children in this way, the writer believes they will eat better-tasting, less expensive, and healthier food. So she thinks we should teach them to follow a recipe (instructions for preparing food), use basic cooking equipment, and all the other things a good cook needs to do. And she believes that we should give them as many opportunities as possible to practice what they are learning.
This article brings up an interesting question: What should parents do to prepare their children to leave home to go to school or begin a job? What did your parents do? What did you do with your children?
In the same article, another writer argues (says it's true) that it's "my job as a parent to give my kids" what she calls "life skills (abilities) that will help children succeed after they leave home." Her list of skills includes things like cooking, cleaning, laundry (washing and taking care of clothes), being organized, and managing money and time.
My mother was one of those people. She wanted to be sure that we – her two boys and three girls – could take care of ourselves when we left home to go to school. She taught us to cook, wash and dry the dishes (we didn't have an automatic dishwasher), clean the house, take care of our rooms, do our own laundry, and even sew buttons on our clothes. Then she made sure we got a lot of practice. I'm glad she did.
~ Warren Ediger – ESL coach and tutor, creator of the Successful English web site.
Photo from Raising Arizona Kids.