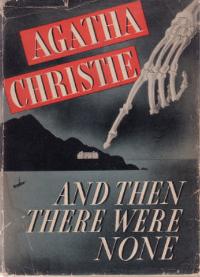 One of my favorite things to do in my spare (free; extra) time is to read mysteries, fictional (not true; invented) stories about a crime — usually murder (killing another person) — and finding out who committed it. I started reading mysteries or detective (person solving a crime) novels (book-long stories) when I was a kid, and I've continued reading them to this day (to the present time).
Don't get me wrong: I don't like blood and guts (violence and lots of blood). I'm not a big fan of modern mysteries where crime scene investigations (CSI; careful examinations of where a crime was committed) find traces (indications; small amounts) of evidence that solve the crime. I prefer old-fashioned murders with very little gore (blood from violence) called "cozies."
Having read mysteries for many years, I've developed my favorite ways to murder. Currently, my favorite method is to garrote someone. To garrote someone means to strangle them (stop them from breathing), usually using a piece of wire or thin rope wound (wrapped) around each hand and then pulled back on someone's throat (part of the body between the head and the shoulders) so they can't breath. The reason this is my current favorite method for murder is that it's difficult for someone to escape (get away from it) if they are taken by surprise.
Here's why and a tip (piece of advice): If I ever try to garrote you, your natural instinct (what you naturally feel you should do) will be to reach up to your neck to pull the garrote — wire or rope — away from your throat. This is nearly impossible to do because you have little leverage (means of using power) compared to me because of our relative positions (place in relation to the other person). Instead, you should twist (turn) your body to the side to try to dislodge (move from its place) the garrote. That's very hard to remember when someone is garroting you, but don't say I never taught you anything useful.
One more tip: Since I am relatively (compared to others) short, for me to garrote you, you will have to be shorter than me, walking ahead of me on a set of stairs, or be seated. So don't walk ahead of me or sit down in my presence (when I am with you). (Again, you're welcome.)
Garroting supplanted (replace; took the place of) my previous favorite method of murder: poisoning. Poison refers to any substance that can make you ill or kill you. It's difficult today to find a poison that is undetectable (not easily noticed) and untraceable (leaving no indication of what it was afterwards). In the old days — and in my old mysteries — it was simple to visit an out-of-the-way (remote; with few people) place where these poisons seemed to be plentiful (with many available), at least in the authors' imaginations. Those were the good old days.
In fact, with today's scientific and technological advances (improvements), life is hard on (difficult for) murderers. Crime scene investigators have a lot of tools to use to help them find the perpetrator (criminal; person who commits a crime). Forensic science (using science to investigate crime) can give the police a lot of information from minute (very small, pronounced "my-NOOT") tissue (material from the bodies of animals or humans), blood, and other types of samples (small amounts of something taken for scientific tests). Lab (laboratory; place where science tests and experiments are performed) tests can determine when, how, and under what circumstances you died. Forensic accountants (investigators of records relating to money earned, spent, and moved) and forensic computer experts can trace a victim's (person who is hurt or killed) background and past activities, possibly finding out my motive (reason) for killing you.
So, as you see, although I have a passion for murder, it's hard to indulge in (allow myself the pleasure of) it. By the way, if you are with the Los Angeles Police Department and are reading this, please do not be alarmed (shocked and worried). I have not (yet) committed any murders and I don't have any immediate (short-term; right now) plans to do so. Rest assured (don't be worried), I would only ever kill on paper (in writing).
– Lucy
Image Credit: First edition book cover of 1940 US edition of Agatha Christie's And Then There Were None  from Wikipedia