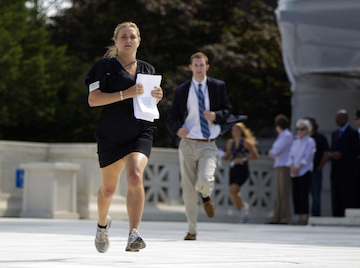 You may have heard of the Running of the Bulls (male cows) in Spain, especially the most famous in Pamplona, or seen it on television. This yearly event began many years ago to solve the problem of moving bulls from the corrals (a place to temporarily keep animals) to the bullring, where bullfights are held. The bulls are released from the corrals and allowed to run through the streets to the bullring. Foolhardy (taking unnecessary risks) – in my opinion – young people run in front of the bulls and try to get to the bullring before the bulls. Many are hurt every year. Occasionally some are killed.
The running of the interns (someone who works for a short time in a job in order to get experience), in Washington, D.C., solves a different problem and may seem a little crazy to some. But no one, as far as I know, has been hurt or killed.
The U.S. Supreme Court announces many of its decisions near the end of their yearly term (time of meeting) – in May and June. Some of the decisions are important enough to attract reporters from around the world.
Here's the problem. The Supreme Court has banned (doesn't allow) all recording devices – video cameras, audio (sound) recorders, etc. – from the Supreme Court building. Reporters sit in the press room and listen to the Supreme Court proceedings (series of things that happen). When the justices (judges) announce an important decision, reporters in the press room quickly write a report, print it, hand it to an intern, and the running begins. Every television network wants to get their report on air first.
The interns race down a short hallway and out of the Supreme Court building. They cross the courtyard (open area outside), dodging (moving quickly to avoid someone/something) tourists, protestors, and others until they make a hard (sudden) left turn at the sidewalk and sprint (run at full speed) the final yards (meters) to where they breathlessly hand the report to a reporter waiting in front of the television cameras.
The running of the interns is only for the young and fit (in good physical condition). It's about a quarter of a mile – approximately 400 meters – from the press room to the cameras. And in June, it's usually hot and humid in Washington.
The winning intern last week, when the Supreme Court announced its decision on Obamacare – the Affordable Care Act – was Lauren Langille from CNBC, an American television business news channel. Congratulations, Lauren!
Here and here are two articles – both with animated (action) photos – that will help you experience this year's running of the interns.
~ Warren Ediger – ESL tutor/coach and creator of the Successful English web site, where you'll find clear explanations and practical suggestions for better English.
Photo from The Laurel