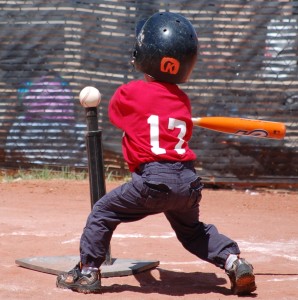 Yesterday was a holiday in the United States called Memorial Day, a day when we honor (remember with respect) those men and women who fought and died for our country in the military. Memorial Day is also the unofficial (not legally, but informally) start of summer for most people in the U.S., since it comes on the last Monday of May.
Summer is associated with lots of different activities – vacations, going to the beach, picnics, barbeques – but for millions of American boys, summer is all about baseball. (Baseball is also played now by some girls, but most girls prefer to play a similar game called softball, which uses a larger, softer ball.)
When I was a young boy, I, too, wanted to play baseball. I grew up in a family where almost everyone played sports. All of my older brothers – all eight of my older brothers – played some sort of sport, and so I decided very early on that I should learn how to play a sport as well.
So when I was five years old, my father signed me up (registered me; put me on a list) to play what's called "tee-ball." Tee-ball (also spelled "T-ball") is a form of baseball, but unlike regular baseball, there's no pitcher. (The pitcher in baseball is the guy who throws the ball; the person who tries to hit the ball is called the batter.)
In tee-ball, there's no pitcher because five-year-old boys can't throw very far, and you can't really have a baseball game unless the batter has a ball to hit. So instead of hitting a ball thrown by a pitcher, the batter hits the ball off of what is called a tee, which is a cone or stick that sits on the ground (see photo).
I remember very well my first game of tee-ball, down at Griggs Playground, a small park near my house in St. Paul. In my first at bat (when I first tried to hit the ball), I hit it pretty hard. I ran to first base. My team was happy. My older brother who took me to the game was happy. I was happy. So far, so good.
Later on in the game, when my team was out on the field trying to catch the balls that the other team hit, I was told to play a position call "shortstop," which is the player who normally stands between second and third base. Like all the players out on the field, the job of the shortstop is to catch the ball if it is hit toward him. What could be easier?
After a couple of batters, one rather large five-year-old on the other team came up to the plate (walked to where the batter stands to hit the ball). He swung his bat (moved the long stick to hit the ball) and hit the ball right at me.
I froze (was unable to move my body). The next thing I remember, the ball hit me right in the face. Bam!
I immediately fell down and started to cry.
The coach (the leader of the team, an adult) came out on the field and asked if I was okay. I told him I certainly was NOT okay. I mean, I didn't expect this game to be painful.
I told the coach I was quitting, right then and there (at that very moment; immediately). I walked off the field and my brother took me home. That was it – the end of my life in baseball after only a few hours.
I never returned to baseball, and, to be honest, was never very good at any sport when I was a child (or now as an adult). But I still love watching baseball, and plan on spending many hours this summer doing just that. I learned my lesson that it is much less painful watching baseball than actually playing it.
~Jeff
* The title of this post is taken from the title of a well-known book about baseball by the same name.
Image credit: Tee-ball, Wikipedia