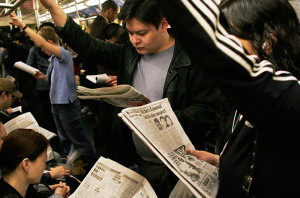 The suffix "-itis," pronounced "AYE-tus," is used in medicine for a physical condition where a part of your body is inflamed, with the area swollen (grown in size), red, hot, and painful. It's used in the names of many common medical conditions. Arthritis, for example, is an inflammation of the joints (where two bones are connected, usually where you bend), and tendonitis is the inflammation of the tendon, the tissue or material in the body that connects muscles to bones.
Sometimes, outside of medicine, we use the suffix "-itis" to refer to a made-up or fake medical condition, usually to be funny. Seniors — students in the final year of high school or college — might have "senioritis," a condition where students don't study very hard, their attention wanders (don't stay on the main subject), and they wait impatiently for the school year to end.
In the late 1880's, doctors coined a new term (gave a new name) for a set of common symptoms (signs or indications of illness) they noticed in patients. This condition was called "Americanitis." It's not clear who first used the term – some say a visiting doctor from England and others say one from Germany – but it became widely used (used by many people) to describe the negative effects of an American way of life.
People noticed that Americans worked long hours and too hard, they hurried or rushed from place to place, and they worried too much. This, they believed, weakened Americans' nerves, the fibers or long pieces of tissue in the body that send messages from the brain to different parts of the body and back. This weakening, it was thought, resulted in many common medical conditions, including high blood pressure (amount of force used to pump or move blood through the body), heart attacks, stomach problems, and nervous disorders (psychological problems, such as anxiety (worrying too much)), and many more.
As you can tell, Americanitis was a very ill-defined (vague; not having a clear description) condition. If you were working long hours at work and couldn't sleep, you may have been diagnosed with (said to have the medical condition) Americanitis. If you were taking care of a household (members in a home/family) and had sore muscles and stomach pains, you might have had Americanitis. Americanistis was a frequent diagnosis and many treatments (what can be done to make an ill person better), including electric shock treatment (applying electricity to parts of the body), were prescribed (recommended by doctors).
It's not surprising that many people who were told or who suspected (believed) that they suffered from Americanitis turned to (looked to for a solution) medicines. In those days, patent medicines (common medications made by a person or a company that do not require a doctor's prescription) were very popular, and medications were not regulated (need to follow laws) in the way they are now. Pills and tonics (old-fashioned term for liquid medicine) were sold and advertised to cure (fix a medical condition; eliminate an illness) you of Americanitis. If you look at the advertisements, Americanitis was anything and everything you can imagine, and so were the cures.
Within 50 years, doctors stopped taking the idea of Americanitis seriously. Today, the term Americanitis is no longer used in medical science, but many might say that the American lifestyle is still bad for your health.
Do you suffer from Americanitis, or at least the behaviors that people associate with it, such as working too hard, hurrying all the time, and worrying too much? Would you like to buy my cure for that? Only a little electric shock is necessary.
– Lucy
Photo Credit:  Crowded rush-hour New York City train from Wikipedia