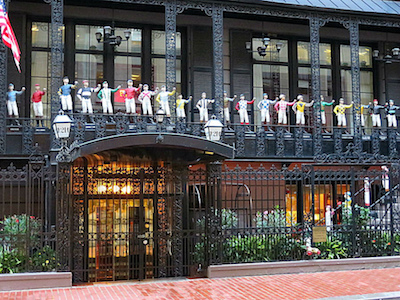 When you walk into the Blind Barber, you'll find what you expect in a barbershop (a place for cutting men's hair). You'll see a barber and his customers. You'll hear "the buzzing (sound) of the shavers (electrical tools for cutting hair) and the snips (sound) of the scissors." But if you walk through the barbershop and through the door in the back you'll find something completely different – a bar (a place where drinks are served) where you can order drinks and sandwiches. That is the real Blind Barber.
To get into Dirty Laundry, you have to walk down a dark alley (a narrow street behind buildings) until you see a black-dressed man sitting at the top of a dark stairway and say to him, "I'm looking for Dirty Laundry." He'll tell you, "You've come to the right place." Behind the door at the bottom of the stairs, you'll find a bar, a small room with tables, and another room where musicians perform.
When you arrive at Lock and Key, you'll find a wall covered with old door knobs (handles you turn to open a door). If you choose the right one, a door will open and you can walk in. If you choose the wrong one, nothing happens unless the doorman helps you find the right one.
The Blind Barber, Dirty Laundry, and Lock and Key are popular modern speakeasies here in Los Angeles. They are a throw-back (similar to something in the past) to the 1920s. Let me tell you the story.
From 1920 to 1933, there was a ban (official order against something) – called Prohibition – against making, selling, and transporting (moving from one location to another) alcoholic drinks in the U.S.
The goal of Prohibition was to reduce social problems, such as crime and corruption (dishonest and illegal (against the law) behavior by powerful people in government and business) and to help increase production (the amount of work done) in factories by making sure that workers stayed sober (not drunk). Unfortunately, it didn't work so well.
During Prohibition, one of the few places you could find alcoholic drinks was in speakeasies, underground (secret and illegal) businesses where people ate, drank, gambled, and enjoyed music, especially jazz.
Many speakeasies were started during Prohibition. Police tried to shut them down (stop or close them), but as fast as they found and closed one, another would take its place. To try to keep police from finding them, bartenders (people who fix drinks) and waiters (people who serve food) would tell their customers to "speak easy," to be quiet while inside a speakeasy and to not say anything about them outside.
Today's speakeasies are legal. And they may be more fad (popular for a short time) than trend (something that will continue). But they are one way to relive (experience again) a small piece of American history.
~ Warren Ediger – ESL tutor/coach and creator of the Successful English web site.
 Credit: Eight modern speak-easy bars in L.A., for that insider feeling by Jenn Harris (with photos).
Photo of Club 21, a former speakeasy in New York, is used under Creative Commons License.