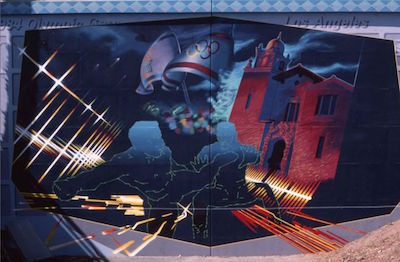 The traffic on the 101 Freeway in downtown Los Angeles is so heavy (a large amount), that it's difficult and dangerous to look around while you drive. But if you had been driving on the 101 recently, you might have seen artist Willie Herron up on a metal platform (something to stand on) pointing a high-pressure stream (continuous flow) of hot water at a gray-colored concrete freeway wall.
And if you had stopped to watch, you would have seen the gray paint on the freeway wall slowly disappear. In place of the paint, you would have seen Herron's mural (a painting on a wall) Luchas del Mundo (Struggles of the World) slowly re-emerge (appear again) – by the way, that's the mural in the photo.
Los Angeles is home to more than 1,500 murals. Each one tells you something about the history, experiences, values, and dreams of the people who live nearby. Mural-painting was probably introduced to the U.S. by artists of the Mexican Revolution, like Diego Rivera. In Los Angeles, the first mural was painted by Mexican artist David Siqueiros in 1932.
As part of the 1984 Olympic Arts Festival, ten murals were painted along LA's freeways, where they would be seen by people driving to and from the Olympic venues (places where an activities takes place). The murals are as different as the artists who painted them. John Wehrle created an outer-space fantasy. Glenna Avila's Freeway Kids shows a group of happy children running and jumping at the side of the freeway. Herron's mural includes Olympic symbols (pictures or shapes with particular meaning), competing (participating in a sport) wrestlers, and a helicopter hovering (staying in one place up in the air) over La Placita, a historic Los Angeles church.
Murals are difficult to maintain (take care of; protect), especially along busy freeways. As a result, the Olympic murals slowly deteriorated (became worse) and some were painted over. To make things worse, the city of Los Angeles passed a ban (an official order that prevents something from being done) on public murals. So, for a number of years, nothing was done to protect most of LA's murals.
In 2013, however, the public mural ban was lifted (removed) and the Los Angeles Mural Conservancy (a organization to protect murals) began to try to restore (return something to its original condition) many Los Angeles murals, beginning with the Olympic murals. Herron's Luchas del Mundo is the last of the Olympic murals to be restored. "It's been a long time coming (it's taken a long time for this to happen)," he told the Los Angeles Times recently. "I don't know how I'll feel when it's all uncovered, but it's emotional."
If you'd like to see a few of Los Angeles' murals and watch as some re-emerge after being hidden under coats (covering or layers) of paint for many years, watch this short video. If you have time, you can explore all of LA's murals in this database from the Public Art in Los Angeles web site.
~ Warren Ediger – ESL coach/tutor and creator of the Successful English website.
Photo of Luchas del Mundo from the Los Angeles Mural Conservancy.