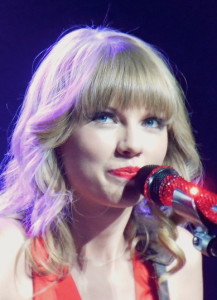 I can't say that I have never, never, never listened to a song by Taylor Swift, but I can say that I'm not exactly (I'm not really) a fan of her music. Ms. Swift is, however, extremely popular in the United States and internationally, known for her catchy (easy to remember) tunes (music) and lyrics (words to a song).
But if you're not careful, Swift may just decide to sue you (take you to court and demand money from you for something you did wrong). Here's why: Swift has trademarked (legally protected) some of the most popular phrases from her songs, claiming (saying) that these phrases are her intellectual property (things you create that belong to you). And if you use them without her permission, she will take you to court (sue you).
What phrases are we talking about here? None that you or I will probably ever use, to be honest. But just to be safe, here's a list of some of the phrases that you should avoid using without young Taylor's permission (and if you do, you should put the official trademark symbol – ™ – on them):
This Sick Beat™ – The adjective sick is now used as a slang term meaning excellent or great. The beat refers to the rhythm of a song.
Party Like It's 1989™ – To party means to have a good time, often by dancing and drinking. This expression is actually a rip-off (something stolen from) another song lyric by Prince, "Party like it's 1999." Perhaps Prince should sue Swift for stealing his lyrics? By the way, I have no idea what the difference is between partying like it's 1989 and 1999, except I personally probably did more in '89 (before marriage) than in '99 (after marriage).
Cause We Never Go Out of Style™ – Cause is a short form of "because." To go out of style means to no longer be popular or fashionable. For example, you could say, "Black dresses never go out of style," meaning they will always be popular.
Could Show You Incredible Things™ – To show someone something is to give them the experience of it, or to let them look at it. Incredible here means amazing, wonderful, or – dare I say it? (should I actually say it?) – sick.
Nice to Meet You, Where Have You Been?™ – Nice to meet you is a popular expression to say when you are introduced (meet) someone for the first time. Where have you been? would be something you would ask of someone you already know but haven't seen for a long time or have been waiting for. I guess the idea of the phrase (having not listened to the original song) is that you are meeting someone for the first time that you wish you had met earlier, perhaps because you find the person attractive.
The reason behind Swift's trademarking of these phrases is not just meglomania (the desire to dominate everyone around you, to have great power). Some say she has a legitimate (logical, legal, and/or defensible) reason to be concerned about other people taking her phrases and using them to make money, by putting them on things such as T-shirts or handbags (purses).
You might be wondering about whether we here at ESL Podcast have trademarked anything. The answer is yes: ESLPod™ is a registered trademark. But if Swift wants to use it in one of her songs, she has my permission, cuz (because) we hope never to go out of style.
~Jeff
Image credit: "Swift performs in St. Louis, Missouri in 2013" by Jana Zills.