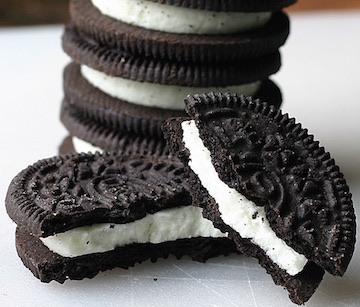 A glass of milk, and as many Oreo cookies as her mother would let her eat. That's what my wife had for a snack (a small amount of food eaten between meals) after school almost every day when she was young. Oreos were her favorite.
Oreos, if you're not familiar with them, are like a sandwich – two round chocolate wafers (a thin, flat, sweet cookie) with a white, sweet, creamy (soft, smooth) filling (something that you put inside of a pie, etc., or in inside a sandwich), called a creme filling. Sometimes Oreos are called "Chocolate Sandwich Cookies."
Oreos have been around for a long time – more than 100 years. The first Oreos appeared in 1912, the year the Titanic sank, and the year that the first explorers made it to the South Pole in Antarctica. And, as our title suggests, they've been on a roll every since.
Oreos have always been popular. Last year, in 2014, people around the world bought more than three billion dollars' worth of Oreos. That's three times more than the next most popular kind of cookie. People love Oreos!
Today there are many kinds of Oreos. The Double Stuf Oreo has twice (two times) as much white creme filling as the regular Oreo. Big Stuf Oreos are much larger than normal Oreos. The Mini Oreo is bite-sized, small enough to eat in one bite. And the Mega Stuf Oreo, introduced two years ago, are similar to the Double Stuf Oreos, but with even more white creme filling.
There are many ways to eat Oreos. You can, of course, eat them the way they come out of the package. Or, if you're like my wife, you can dunk them in milk – put them into the milk until they get soft – and take them out again to eat them. Some people like to "twist and lick" – turn the outer parts of the Oreo in a circle so that it comes apart, then use their tongue to lick off the sweet, creamy filling before eating the chocolate wafers. Still others like to break the Oreos into small pieces and sprinkle (scatter small pieces onto something) them onto ice cream. One of my favorite kinds of ice cream, Cookies and Cream, is a mixture of ice cream and pieces of Oreo cookies.
What kinds of snacks do you enjoy? Have you ever had Oreos? Did you like them?
* The title is a pun, and is supposed to make you smile or laugh. The pun in the title comes from two different ways of using the word "roll." A roll is a small, often round, piece of bread for one person; sweet rolls are usually filled with or covered by something sweet. To be on a roll could mean to be on top of a roll or, as I'm using it here, to be having success with whatever you are doing.
~Warren Ediger – ESL coach/tutor and creator of the Successful English web site, where you'll find clear explanations and practical suggestions for better English.
Photo courtesy of Wikipedia Commons.