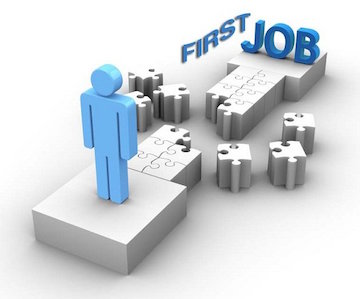 Remember your first job? I do. And I remember learning something very important from it.
I got my first "real" job when I left home after high school to go to college. My parents couldn't afford (didn't have enough money) to help me, so I worked my way through college (paid for my education by working).
I went to class in the morning and, occasionally, in the evening. Every afternoon I went to work in a small manufacturing company where I was responsible for the mail room.
I did the things you might expect. I went around to all the offices, picked up the day's outgoing (being sent) mail, and made sure it was ready to be picked up by the mail truck. After the incoming (received) mail was delivered, I distributed (took it around) it to each of the offices.
Most of my time, however, was spent preparing the day's promotional (advertising) mail. Each salesman scheduled multiple (more than one) mailings to each of their customers. For example, they would send one promotional piece the first month, a different one the second month, and so on.
Every day I would take the envelopes for that day from a large file cabinet. I put the appropriate promotional pieces into the envelopes, put postage (money charged for sending a letter) on them, sorted (organized in groups) them according to their destinations (where they were going), and put them into large mailbags.
The flow (smooth steady movement) of mail was important to the company. And I was responsible to see that the flow was not interrupted (stopped).
Several weeks before Christmas, I went to see the office manager, to tell him that I would be gone for the Christmas and New Year's holidays. We didn't have school during the holidays, and I planned to spend them with my family.
George invited me to come into his office and sit down across the desk from him. He listened attentively (thoughtfully) to what I had to say. When I finished, he was quiet for a short time and then asked, "Where do you plan to work when you return after the holidays?"
I must have looked puzzled (confused), so George explained. "You may get time off during the holidays, but we don't. Our work continues. If you leave, I'll have to hire someone to take your place. I can't do that and then ask him or her to leave when you come back. So you need to decide if you want to continue to work here."
Happily, George and I were able to work out a compromise (a different way to solve the problem). I worked until the day before Christmas, took the train home so I could enjoy Christmas with my family, and returned to work a day or two after Christmas.
George taught me an important lesson: when you are given a job, you are responsible to do that job. You're a part of a team, and when the team works, you work. You can't come and go whenever you want to.
What did you learn from your first job?
~ Warren Ediger – ESL coach/tutor and creator of the Successful English web site.
Today's photo comes from www.definitelyfilipino.com.