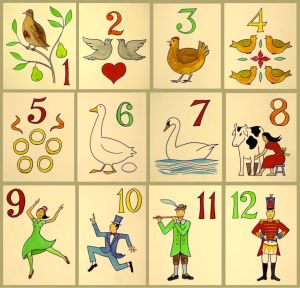 In the U.S., you start to hear Christmas music played on the radio after the late November holiday of Thanksgiving, and you continue to hear it all the way through the month of December. By New Year's Day, the radio stations stop playing Christmas music. For most people, Christmas is "over," finished. Time to get back to work!
But traditionally (and still in other countries around the world), the celebration of Christmas begins on December 25th, and doesn't end until January 6th. January 6th is celebrated under different names depending on the culture and particular Christian group you're in, but most people who know about it in the U.S. associate it with the "Three Kings" or "Three Wise Men" or "Epiphany" (for the story, see here).
There's a popular song called the "The 12 Days of Christmas," which some Americans think refers to the 12 days before Christmas, when in fact it refers to the 12 days after Christmas – that is, from Christmas to the celebration of the Epiphany. The song is about gifts that your "true love" (your boyfriend, girlfriend, or spouse (husband or wife)) gives to you. Each day you get a different gift, starting with one of something, then two of something, then three of something, and so forth.
Most people (including me) can remember the first five verses (sections) of the song, corresponding to (relating to) the first five days of Christmas, but can't remember the rest of the verses. So below are the "gifts" for all 12 days and an explanation of them.
If you are not familiar with the song, you'll want to watch a video of it also (see below).
Here then are the 12 gifts (look at the image above also to help you):
Two turtle doves – turtle doves are another kind of bird
Three French hens – also called Faverolles, they're a type of chicken
Four calling birds – also called a songbird for the noise they make
Five golden rings – a ring is what you wear on your finger as jewelry
Six geese a-laying – geese are (of course) birds, and "a-laying" is another way of saying that they are producing eggs (the "a" in front of the gerund "laying" is an Old English way of indicating the present progressive, so "a-laying" would be "is/are laying")
Seven swans a-swimming – swans are beautiful birds related to ducks and geese
Eight maids a-milking – a milkmaid is a girl or woman who works getting milk (white liquid) from a cow (maid is an old word for a young, usually unmarried woman)
Nine ladies dancing – a lady can refer to a woman, but an older use of the word refers especially to a woman of authority, power, and wealth (lots of money) (I'm pretty sure my wife would never give this gift to me.)

Ten lords a-leaping – a lord is an older term for a man of power and wealth, often the owner of a large house and a lot of land; to leap means to jump
Eleven pipers piping – a piper is someone who plays a musical instrument such as a bagpipe; to pipe is the verb used to refer to playing a bagpipe or other similar instrument
Twelve drummers drumming – a drummer plays a drum, a musical instrument that requires that you hit it to make a sound; to drum refers to playing that instrument.
To really appreciate the song, you have to listen to it. Here is a video with the music and images of the different gifts.
Do you have this song in your language (or a similar version)? Has anyone ever given you seven swans a-swimming or ten lords a-leaping?
~Jeff
Image Credit: "XRF 12days" by Xavier Romero-Frias