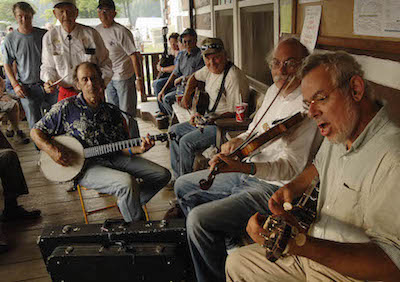 If you want an unforgettable drive, drive west from Washington, D.C., for about one hour, turn onto Skyline Drive, take it to the Blue Ridge Parkway, and drive to the end. These two roads follow the Blue Ridge Mountains for almost 600 miles (965 km). And if you drive them, you'll experience one of the most historic (important to history) and beautiful areas in the eastern U.S.
You can't drive fast here – the speed limit (how fast you can drive) is lower than usual – but you wouldn't want to. Every turn in the road shows you something new – rugged (rocky) mountains and pastoral (farm-like) valleys (land between mountains) with waterfalls, rivers, and lakes. Forests and fields (areas of open land) of colorful wildflowers come to the edge of the road. And if you look carefully, you may see deer, bears, wild turkeys, and other wild animals.
One thing that sets these roads apart (makes them different) is that the area around them is treated as a historical museum. Historical places and buildings have been protected and taken care of so people can enjoy them as they were originally (from the beginning) and learn from them. When you drive these roads, you drive through history.
If you open your car window and listen carefully as you drive, you may hear something else that sets this area apart – the music. These hills are alive with the sound of music.
The hill music can be difficult to describe. It's old-time music, some of it brought by immigrants from Ireland and Scotland. It's string-band (see the photo) music. It's bluegrass music. It's the music of the people who live here. And they love to make it.
You can hear the music on street corners and in barber shops (where men get their hair cut). Evenings and weekends you can find people gathered on someone's front porch (area in front of a house with a roof but no walls) or in someone else's barn (large farm building), making and enjoying music.
Chris Wohlwend recently wrote about his visit to a popular gathering place called The Red Barn. It was a very casual gathering, he writes. Admission (cost to get in) is free. And everyone is welcome. Many of the people bring food to share with everyone else.
When it's time to start, the musicians pick up their instruments and, in the words of one of their popular songs, "make them sing." Any musician is welcome to "sit in" (participate; take part), and many do.
The Red Barn has about 100 seats (chairs), and on the night Wohlwend went, about 75 people were there. During the performance, some listened, some danced, some sampled (took a small amount of) the food, and others visited with (talked to) friends. A dog wandered (walked casually) through the crowd from time to time, and a young boy leaned (rested) against the stage (raised area where the musicians sat), fascinated by (extremely interested in) the fiddle (violin) player.
At the end of the evening, Wohlwend wrote, after almost everyone had gone, one of the men picked up his fiddle and began to play one of his favorite songs alone, "oblivious (not aware) that the barn was empty. He was playing for his own enjoyment."
If you'd like to look at Wohlwend's article, which includes photos and a link to one of the songs he heard, you can find it here.
~ Warren Ediger – ESL coach/tutor and creator of the Successful English web site.
String band photo courtesy of the West Virginia Division of Culture and History.