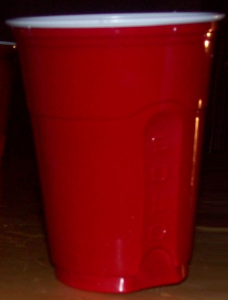 I've recently come across (seen without looking for it) a couple of reports about American-themed (style) parties in other countries. The idea is to decorate, eat, drink, and play games that are stereotypical (a widely believed but too simple idea) of Americans and their celebrations. People attend these parties dressed like Americans — or at least what they think Americans look like — perhaps in cut-off shorts (short pants made by cutting off the pant legs above the knee, usually from jeans) and t-shirts, team jerseys (uniform shirts) of American basketball, football, or baseball teams, and baseball hats or cowboy hats.
The food served at American parties is also common American food, although not always the food real Americans actually would serve at parties. Among the things served are popcorn (made by cooking corn kernels (seeds) in hot oil and adding butter and salt), cupcakes (small, individual cakes), and hamburgers.
And, of course, there has to be beer. Apparently (it seems that) the most important part of having an American party is to have red Solo cups. Solo is an American brand of disposable (used once and thrown away) plates, utensils (knives, forks, and spoons), and plastic cups.
Most Americans would be surprised that people from other countries have identified these red plastic cups to be so, well, American. In fact, there is nothing special about these cups, to our way of thinking (from our point of view). The main reason they are so often used at parties is because they are cheap and they're relatively large. They are large enough to hold a good amount of beer (16 ounces) and they are fairly sturdy (not easily broken) for a disposable cup. There is no particular reason for the cups to be red; it's just the company's way of distinguishing (separating themselves in people's minds) its product from those of other companies. But because of its association with American parties, some companies are now selling red Solo cups on websites and in stores abroad (in foreign countries), precisely so they can be used for American parties.
The red Solo cup even has its own song. Popular country music singer Toby Keith released (made available to the public) a song in 2011 called "Red Solo Cup." It's a tribute (something done to honor or appreciate something) to the cup, and if you must hear it, you can see the video for it here. It's truly a dreadful (terrible) song. I normally wouldn't pass judgement (give an opinion), but it really is a bad, bad, bad song. You have been warned.
If you have had or have gone to an American-themed party, tell us about it.
If we were to have a party based on the country or culture you live in, what is the one thing that the party must have?
– Lucy
Photo Credit: Asolocup from Wikipedia