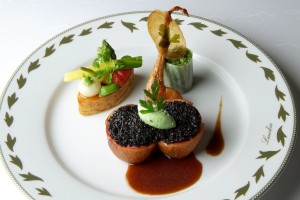 Your favorite band is coming to town. You call, wait in line, or go on the Internet right (immediately) when the tickets go on sale (become available for purchase) hoping to snag (get something difficult to get) some before the event is sold out (without any remaining tickets).
We're all familiar with this process even if we haven't tried to get concert (music performance) tickets, but can you imagine going through this to eat at a sought-after (in demand; wanted by many people) restaurant?
Some chefs (professional cooks), tired of people making reservations (appointments to eat) that end up (result) as no-shows (not arriving when planned) or last-minute (close to the planned time) cancellations (announcing that a planned event will not happen), have instituted (put in place; started) a ticket system.
Like going to a concert or show, eating at their restaurants requires a "pre-paid" (paid in advance of the event) ticket. Some chefs say that last-minute cancellations can result in 40% of their tables going empty (without visitors/users). With tickets, they say, that does not happen. Of course, only the most well-known or respected chefs can pull this off (be successful with a plan).
This ticketing system was invented (created) by a Chicago chef named Nick Kokonas in 2011. A ticket to his theme (based on one subject) menu meals costs about $300. The menu changes every four months, so people can buy season tickets (tickets to attend each event during a period of time), just like they would for the symphony (large orchestra of musicians, usually playing classical music) or the ballet (a type of classical dance). Other restaurants charge about $100 for a complete meal and tickets sell out quickly.
Some who criticize this system say that hard-to-get tickets for restaurants have been sold by scalpers (people who resell tickets at a much higher price) similar to concert tickets at exorbitant (unreasonably high) prices.
I don't have a very sophisticated (knowledgeable) palate (appreciation of flavors), so fine dining (eating at high-quality and fancy restaurants) isn't usually my cup of tea (not usually what I prefer). I doubt I'll be buying any of these dinner tickets soon.
Are there top or celebrity chefs where you live, and would you consider buying a ticket to one of their restaurants?
– Jeff
Photo Credit: Jacque Lameloise from Wikipedia