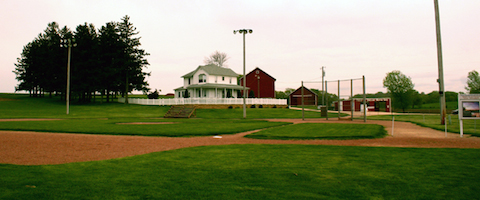 Twenty-five years ago, in the movie Field* of Dreams, a mysterious (difficult to explain or understand) voice told Ray Kinsella, "If you build it, he will come."
Ray,  a young Iowa farmer, was not sure who "he" was, but he got the idea that he was supposed to build a baseball field in a cornfield on his farm in rural (in the countryside, not the city) Iowa. His wife hesitated (was nervous, not sure) at first. His brother-in-law opposed (disagreed with) the idea. And his neighbors laughed at him. But Ray built the field.
When he was alive, Ray's father loved baseball, especially one player – Shoeless Joe Jackson – and the Chicago White Sox team. After the baseball field was finished, the ghost (the spirit of a dead person that people can see) of Shoeless Joe and other players from the past walked out of the cornfield one by one, onto the baseball field, and began to play.
Near the end of the movie, the players began to walk back into the cornfield. Before he went, Shoeless Joe glanced (looked quickly) at the one player who was still on the field, turned to Ray and told him one more time, "If you build it, HE will come." Ray looked at the other player again, and when he did, he recognized his father as a young man.
Terrence Mann, a character in the movie, predicted (said that something will happen before it does) that "People will come, Ray. They will come to Iowa for reasons they can't even fathom (understand). They'll turn up (arrive) at your driveway not knowing for sure why they're doing it. They'll arrive at your door … longing for (wanting, wishing for) the past."
Mann was right. Every year, as many as 70,000 people make their way (travel) to Dyersville, Iowa, drive out of town on the gravel (small stones) road, park near the white farmhouse, and walk onto the field, which is still surrounded (to be all around something) by cornfields. And they dream.
Bill Plaschke, a writer for the Los Angeles Times, visited the Field of Dreams this summer and met some of those people.
One of them, Frank, was sitting on a bench near the field, crying softly, when Plaschke found him. He and his son, who has a birth condition that makes it difficult to walk normally, had been on the field playing catch (throwing a baseball back and forth). "To connect with my son in a place like this," Frank told Plaschke, "there are no words for it. It's hard to explain, but it's like we're supposed to be here, we're supposed to share this."
Plaschke writes, "They come to play a first catch with a toddler (young child), or a final catch with a dying relative. They hold family reunions (a gathering after being separated for a long time) with giant games of catch. They hold impromptu (without planning) weddings after quick games of catch. They have even discreetly (carefully to avoid upsetting anyone) spread loved ones' ashes (what remains when a dead person's body has been cremated (burned)) when they have finished playing catch."
They came. And they continue to come.
* A field is an area of open land, especially one planted with crops, like corn. A field can also be a piece of land, like a baseball field, used for a specific purpose.
~ Warren Ediger – ESL coach/tutor and creator of the Successful English web site, where you'll find clear explanations and practical suggestions for better English.
Photo courtesy of Wikipedia Commons.