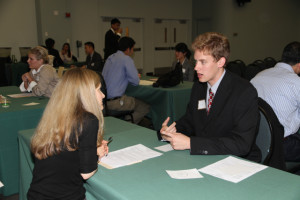 People who work for high-tech (using technology) and highly-skilled jobs may be accustomed to (used to) noncompete clauses.  Noncompete clauses are requirements in a person's employment contract (agreements) stating that he or she will not go work for another similar company for a stipulated (stated) period of time, anywhere from (between) six months to two years or more.
This makes sense for some companies because although physical inventions (new creations) or products stay with the company, the inventor may carry plans and ideas elsewhere. These noncompete clauses are a way for companies to protect their intellectual property, the thinking, mental plans, ideas, and more that went into that invention.
Now, noncompete clauses are being found in other industries (fields; areas of work), including service industries (areas of work that serve customers, not make products). According to a recent news report, yoga instructors (people who teach yoga, a type of exercise), chefs (professional cooks), book editors (people who fix problems, confirm facts, and are responsible for the final version of a text or manuscript to be published), and even camp counselors (people who lead children in activities, children who stay all day or for several days/weeks, often to experience the outdoors during summer vacation).
People who argue against noncompete clauses say that they stifle (stop; limit) innovation (new ideas) and competition, both of which are bad for the economy. Proponents of (people who support) noncompete clauses say they are necessary to protect their investment (money spent on something with the expectation of earning more in the future).
Are there noncompete clauses in the employment contracts of the companies or businesses where you've worked? Do you think they are necessary and would you want to sign one?
– Lucy
Photo Credit:  Job interview 0001.jpg from Wikipedia