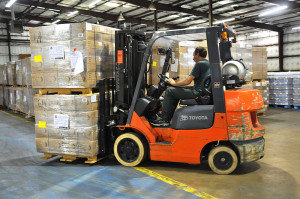 Companies that are looking to (wanting to) reduce their workforce (number of employees) will sometimes offer people who are close to retirement (age when people typically stop working, traditionally 65-years-old) something called a "golden parachute." A "parachute" is something you wear on your back that opens when you jump out of an airplane to slow and soften your landing on the ground. In the old days, when people retired, they were given a gold watch.
A golden parachute, then, is a large payment with perhaps other compensation (something worth money given for work done) that is given as an incentive (enticement; something that makes you want to do something) to quit early. With that extra money, your transition (change from one situation to another) to retirement will be easier.
But how would you like to be paid to quit your job now, even if you're not close to retirement age? That's what Amazon.com is doing. It's offering employees in their fulfillment warehouses (large storage places where orders are prepared for shipping) up to $5,000 to quit their jobs if they are not happy.
The program is called "Pay to Quit" and is offered once a year.  If you quit after the first year, you get $2,000 and that figure (number) increases by $1,000 each year until it tops out at (reaches the maximum or highest number) $5,000.
Why would Amazon pay people to quit? Amazon says that workers who are unhappy and dissatisfied with their jobs cost the company money. They have lower productivity (how much work is done in a given (specific) period of time) and they don't help to create a good working environment.
Two other large companies have tried this same strategy (plan): Netflix, a large video company, and Zappos, a large online shoe company. All three companies made their decisions based on the data (information) available and have concluded (decided) that having a workforce (all workers for one business or organization) of people who want to be there and who are enthusiastic (happy and excited) to work for the company is worth the expense (money paid) of paying unhappy or disgruntled (unhappy and complaining) people to quit.
Are you in a job you don't like? The top amount of $5,000 isn't a lot, but it might help you make the transition to a new job. If you were offered this golden parachute now, would you take it?
– Lucy
Photo Credit: FEMA – 37931 from Wikipedia