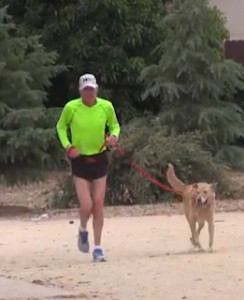 Americans who remember the 1970s probably remember streakers – usually students – who ran naked (without clothes) in public places as a joke or to shock (surprise and upset) people.
Today there's a new group of streakers. At least that's what some of them call themselves. But as far as I know, none of them has taken off their clothes to do what they do.
A streak is a period of time during which you continue to be successful or to fail. In sports you hear a lot about streaks, and there have been long ones. Cal Ripken, a well-known American baseball player, played 2,632 games without missing one. That's an impressive streak!
From 1996 until 2007, the Caltech (California Institute of Technology) Beavers basketball team lost every game they played – 207! That's not an impressive streak!
Jon Sutherland is one of the new breed (particular kind of person or type of thing) of streakers. He is a streak runner. To be a streak runner, you must run at least one mile (1.6 km) every day under your own power (without any mechanical help), but treadmills (a machine for walking or running in the same place) are okay.
Sutherland recently set an American record for the longest running streak. He has run every day since May 26, 1969. When the Los Angeles Times reported (told) his story, he had run every day for 45 years – that's 16,425 consecutive (one after the other) days. During that time, he ran about 11 miles (18 km) a day – more than 190,000 miles (305,775 km).
Years ago, one of Sutherland's friends told him that he had run every day for a year. So Sutherland decided to try it, too. The first year was "no big deal (not so important)", he says. And pretty (very) soon one year became five, then 10, 15, and now 45 years.
Sutherland's commitment (a promise to do something) to running have helped him continue to run in spite of (without being stopped by) 10 broken bones, including a broken hip, and arthroscopic surgery – surgery in which doctors insert very small instruments (tools) into small incisions (cuts) so there is less damage and the patient heals (becomes healthy again) faster – to both knees.
Sutherland has a simple explanation for why he runs – "I keep running because I like it. The first thing I think about when I get up every morning is, 'Where are me and Puck (his dog) going to go? Where are we going to run today?" Sutherland is retired (doesn't work) now, and he plans to run as long as he can, though he doesn't run as far every day as he used to. "As long as I'm healthy, I'm going to keep going," he says. "I'm addicted (not able to stop) to running. It's all I do."
The United States Running Streak Association (USRSA) – which was started in 2000 – says that there were 86 streak runners in the U.S. in 2002 and more than 430 in March 2014.
If you'd like to read stories of other streak runners, look at The People Who Can't Not Run. And if you'd like to hear Jon Sutherland tell his story, watch this short video from the Los Angeles Times.
Are you working on any kind of streak – it doesn't have to be running?
Since I read Jon Sutherland's story, I've been pushing (strongly encouraging) my students to become streak readers – to read every day, without missing a day – to improve their English.
~ Warren Ediger – ESL coach/tutor and creator of the Successful English web site.
Photo of Jon Sutherland and Puck is a screenshot from the YouTube video by Los Angeles Times.