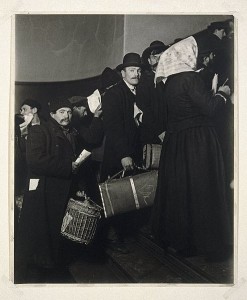 If someone calls you a "moron," you should be very offended (feel insulted). A moron is someone who is very stupid. The term is harsher (more severe; more of an insult) than "stupid" or "dumb." Today, Americans use this term as an insult, but in the early 1910s, being a "moron" might put you in a mental hospital (hospital for people with problems of the mind) or get you deported (kicked out of or told to leave a county permanently).
The term "moron" was a medical term invented by a psychologist (doctor studying the mind) named Henry H. Goddard. Goddard was interested in intelligence (how smart someone is) and he created a scale (measurement) to classify people of low intelligence. He initially used the term "feeble-minded" as his first category. ("Feeble" means weak or not strong. The other, more severe, categories of low intelligence were "imbecile" and "idiot," terms also still used today as insults.)  He didn't think the term "feeble-minded" was scientific enough, so he created the term "moron." Today, none of these terms are used in science and medicine, of course.
Goddard was concerned about eugenics, the study of how to produce a better race of people by eliminating a population's "bad" characteristics, such as low intelligence. His ideas were so influential that they affected immigration policy (rules allowing people to enter a country permanently) in the United States.
In 1913, Goddard sent his female assistant to Ellis Island, the entry point for immigrants in the 1800s and early 1900s, to spot (recognize) possible "morons" and to administer (give them) his intelligence tests. He believed that women were more intuitive (able to sense or feel things more easily) and could simply look at a person and determine who is and is not feeble-minded. The result was that 40% of the Jews, Italians, and Hungarians who were tested were determined to be morons. Based in part on his results, the following (next) year, the number of people deported for being feeble-minded doubled (increased 100%).
Goddard's research was eventually disproved (shown to be false). In fact, Goddard himself later said that some of his most influential work was flawed (had problems). More importantly, he eventually said that he no longer believed that morons were incurable (cannot be treated and made to improve) and that they needed to be segregated (separated) from society and placed in institutions (mental hospitals).
Today, Goddard's ideas no longer affect immigration policy, but the term "moron" continues to be a legacy (influence after death) and reminder of his dubious (of doubtful use or quality) work in the 1900s.
– Lucy
Photo Credit:  Brooklyn Museum – Climbing into the Promised Land Ellis Island – Lewis Wickes Hine from Wikipedia