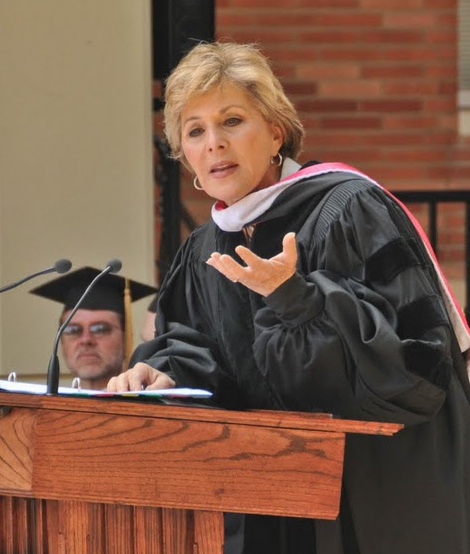 This time every year, thousands of young people graduate from colleges and universities. We usually celebrate this occasion by a ceremony (a traditional event) we call graduation or commencement.
The word graduation emphasizes what they have finished; commencement emphasizes the beginning of a new chapter (period of time) in their lives.
Well-known men and women from the worlds of business, politics, religion, and entertainment are often asked to come to these ceremonies to speak to the graduates. Some speeches encourage (give students courage or confidence). Some challenge (ask them to try something difficult). Some entertain (provide enjoyment or pleasure).
Some speakers are memorable (easy to remember or worth remembering) for who they are. Others for what they say. This year has provided some interesting twists (unexpected situations) and given us speakers who will be memorable for other reasons.
This year some speakers will be remembered for the speeches they didn't give. According to NPR (National Public Radio), almost a dozen "big-name commencement speakers" withdrew (decided not to participate) or had their invitations cancelled because of student protests (something you do or say when you disagree with someone or something). These speakers included Christine Lagarde, the head of the International Monetary Fund, and Condoleezza Rice, former U.S. Secretary of State. This isn't the first time something like this has happened, but it is becoming more common (happening more often).
Jill Abramson will be remembered for the speech she did give just a few days after being fired from (being told to leave) her job as editor (the person in charge of a newspaper or magazine) of the New York Times. She began her speech by smiling and telling the students that "I'm talking to anyone who has been dumped (to  a relationship ended suddenly by someone else)…." And she encouraged students to be resilient – to become strong, happy, or successful again after a difficult situation.
Thanks to YouTube, some commencement speeches have become very popular. For example, Steve Jobs' 2005 commencement address at Stanford University has been viewed almost 20 million times. In that speech he told students that everyday he asked himself, "If today were the last day of my life, would I want to do what I am about to do today?" If the answer was "no" too many days in a row (one after another), he said he knew he needed to change something. He died just a few years later when he was only 56 years old.
Recently NPR (National Public Radio) made it easy to find and listen to or read popular commencement speeches when they created The Best Commencement Speeches, Ever – a collection of more than 300 speeches. You can look at the list of speakers to find someone you want to hear or read, or click on one of the different themes, or topics, to find a list of speeches that talk about that theme.
I found David Brooks, a New York Times writer I enjoy reading, on the list and smiled at his humor and wisdom. For example, last year he told graduates that "The daily activity that contributes the most to happiness is having dinner with friends. The daily activity that detracts (takes away from) most from happiness is commuting (traveling a long distance to work). Eat more. Commute less."
I'm curious – if you could speak to graduating university students, what would you tell them?
~ Warren Ediger – ESL coach/tutor and creator of the Successful English web site.
Photo by Senator Boxer used under Creative Commons license.