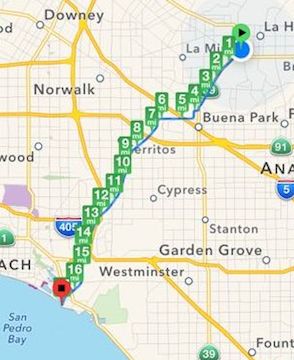 It's a cool, clear Sunday, a perfect day for a bicycle ride and a personal challenge (test). I've been riding my bicycle from our home in La Habra to the town of Seal Beach, on the Pacific Ocean, for several years. It's an enjoyable ride, and when I finish, I often meet my wife there for brunch (a late-morning meal, a combination of breakfast and lunch) at O'Malley's, an Irish restaurant.
Today I have a new goal: I want to make the ride – about 18 miles (29 km) – in less than one hour, something I have never done before.
The first seven miles (11km) are on city streets – usually busy, but not on Sunday. I want to ride fast at the beginning because I know I'll have to slow down later. Soon the computer on my handlebars (the bar you use to turn the bicycle) tells me that I'm going about 23 miles (37km) per hour.
The city streets take me to the Coyote Creek Bike Trail. I'll follow it to where it joins the San Gabriel River Bike Trail I wrote about last year and continues to the Pacific Ocean.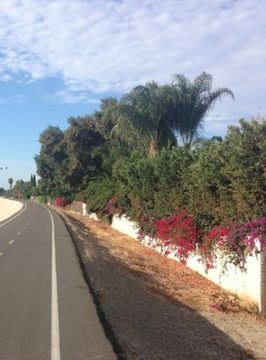 When I ride onto the trail, I'm greeted by brightly colored bougainvillea (a kind of flower) and the sweet smell of orange and grapefruit blossoms from the back yards of houses along the trail. Spring is here! The trail takes me past a large park, where I see the Easy Runners, a mostly Asian American group, who walk and jog (run slowly) along the trail every weekend.
After passing the park, the trail crosses to the other side of the river. It's an older trail here and much rougher, so I have to slow down. I'm glad I rode as fast as I did at the beginning.
A large nursery (a place where plants and trees are grown and sold) appears on my left, followed by a tree-filled cemetery (a place where people are buried) and more parks and soccer and baseball fields. There are few other riders here, so I'm able ride on the smoothest parts of the trail and keep my speed as fast as possible.
About 15 minutes later, and about five miles (8 km) from the ocean, I come to where the Coyote Creek Trail joins the San Gabriel River Trail. For the first time I begin to smell the ocean. The trail is new here and much smoother, but there is more traffic, and I begin to fight the wind from the ocean.
It's difficult to keep up my speed. For the first time my legs begin to tire (get tired), and I have to work to keep from slowing down. A glance (quick look) at my computer tells me that I can't slow down too much.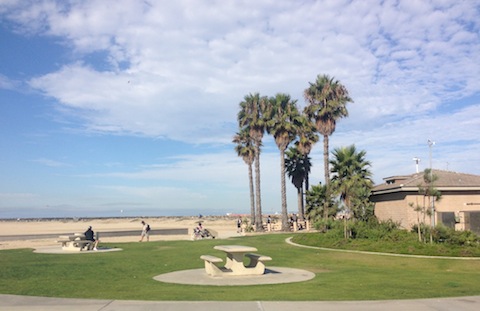 The river is deeper here, and filled with dozens of water fowl (birds), like sea gulls and egrets. Soon I can see the marina (a place where people keep boats), which is filled with yachts (large personal boat) and sailboats. And beyond the marina I can make out (begin to see) the palm trees that surround (are all around) the River's End Restaurant at the end of the trail.
When I arrive at River's End and check the iPhone app I use to track (follow and record) my ride, I see that I made the ride in 58 minutes – about 19 miles (30 km) per hour. I did it! And now it's time to join my wife for brunch!
~ Warren Ediger – ESL coach/tutor and creator of the Successful English web site.
Photos by W. Ediger.