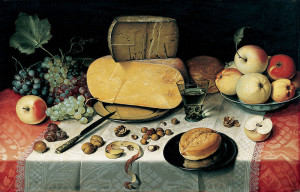 I have always thought that the five-second rule was stupid. The five-second rule is the belief that if food falls on the floor and you pick it up within five seconds, it's safe to eat. Well, there's actually some evidence now that shows that I may be wrong.
Researchers at Ashton University in the United Kingdom conducted a study in which they had students drop food on the floor, food such as toast (heated, crisp bread), pasta (Italian dish with noodles or other shapes made with flour), cookies, and candy. Then, they measured how much bacteria (very small living things that can cause illness and disease) gets on each type of food for different durations (periods of time) ranging from three to 30 seconds.
The longer the food remained on the floor, the more bacteria there was on it. How much bacteria gets on it depends on two other things.
Not surprising, wet foods pick up more bacteria.
Hard flooring also resulted in more bacteria. Tile (hard flooring in squares, made of material that has been baked) or laminate (hard flooring made of several layers of pressed material, usually made to look like wood) floors resulted in more bacteria on food than carpet (soft covering on the floor installed wall to wall).
However, the researchers say that this doesn't mean it's okay to eat off the floor, because your risk (chance of being harmed) depends also on what type of bacteria is on the floor at that time.
But these results are good news to most people. About 87% of people surveyed (asked questions for research purposes) in the study said that they ate food that had fallen on the floor.
Given (as a result of) these results, I will do my best to only eat dry foods while sitting on carpet, and not worry about the extra flavoring (something placed on food to enhance its taste) and garnish (something put on food to make it look more attractive) I get from that carpet if my food falls on it.  Yum!
– Lucy
Image Credit:  Floris Claesz. van Dyck from Wikipedia