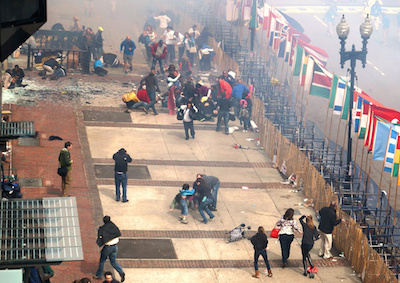 Some anniversaries are for celebrating – like wedding anniversaries. Some are for commemorating – for recalling (remembering) and to serve as a memorial (to remind people of an event or person). This week we commemorate an anniversary.
One year ago two bombs hidden in backpacks spread death and mayhem (an attempt to seriously and permanently injure someone) among people near the finish line of the Boston Marathon. Three were killed. 264 were injured. And 14 required amputations (removal of an arm or leg).
Jeff Bauman was at the marathon to cheer for (to give encouragement to) his girlfriend Erin, who was running in her first marathon. He was there, standing next to one of the backpacks, when it exploded and destroyed both of his legs below the knees.
Jeff has become an icon (something or someone that represents something) of what happened in Boston. The photo of two emergency workers and a bystander (someone who is watching what is happening) in a cowboy hat pushing Jeff – with no lower legs – to the medical tent in a wheelchair was one of the first photos many of us saw.
The story of Jeff's battle to recover from his injuries and regain (get back) his strength have kept him in the public eye (seen on TV, in the newspapers, etc., a lot). We followed as he endured (to be in a difficult or painful situation for a long time) the amputation of both legs above the knees. We watched and cheered when he took his first steps using artificial legs made especially for him.
Jeff and Erin are now engaged to be married, and they're expecting their first child. They recently bought a house and spend a lot of their time preparing it for the arrival of their baby. He says that he knew he loved Erin when she laughed after he jokingly told her not to worry because "our kids will have legs."
In a recent interview, Jeff said that he sleeps a lot, which doctors say is good because it helps his body heal (recover from the injuries). He still has trouble walking on his artificial legs, so when no one is around (nearby), he wears what he calls "stubbies." They are small platforms (thick pieces of wood) that attach to the bottom of his thighs (upper leg) and make it possible to walk and stand for several hours.
Jeff says that "the things normal people take for granted (don't think about) – going to the bathroom on their own, getting out of bed without falling down, making a latte for friends – once seemed insurmountable (too large or difficult to do)." There were times that he wanted to give up (stop trying) because he thought he would never be able to take care of himself, no matter how hard he tried.
But he didn't give up. He continued to try. And he's slowly improving (getting better). He says that "doing household chores (small regular tasks), being helpful, living a normal life … is what matters. It is what I worked so hard for. And right now, it's all I really want."
Jeff has written a book – called Stronger – about his experiences this last year. It will be released this month.
~ Warren Ediger – ESL coach/tutor and creator of the Successful English web site.
Photo of Boston Marathon bombing courtesy of Wikipedia Commons.