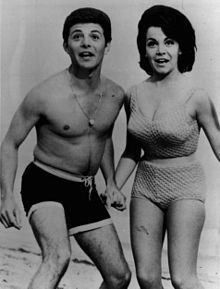 We are in the middle of the spring break season. I say "season" (period of time), because in the U.S., there are no set (fixed; firm) dates for spring break, and each school, school district (collection of schools under the same management), or region decides when to take this typically one- or two-week vacation. For students, this break (temporary stop; short interruption) occurs near the middle of the spring term (period of schooling) and is a welcome respite (short period of rest).
Spring break occurs in early spring, usually near or around the Easter holiday, which is April 20th this year. The most popular dates include the week before Easter, although they may occur anytime within a four- to five-week period in spring. If you take a look at a popular student travel site, you can see that spring break occurs this year anytime between February and April.
Spring break occurs at all levels of schooling, from kindergarten (for children ages five to six) all the way through college. For younger children, spring break may just be a week or two home from school, or it is a time for a family vacation. For college-age students, it is something else entirely.
For college students, spring break is a time to go on vacation with friends, often to a vacation destination (popular location) where many other spring breakers congregate (meet; also go there). This is typically a week-long party, with a lot of drinking of alcohol and a lot of hooking up (casual sexual experiences). Not all college students party during spring break, of course, but this type of spring break activity is so popular that there are places in the U.S. that cater to (are designed for) college students on spring break, earning most of their money during this four- to five-week period each year.
Beach or lake locations are among the most popular for spring break holidays. The typical image of spring break is of a lot of young people in bikinis (two-piece swimsuits for women) and swim trunks (swim suit for men, similar to shorts). Some of the most popular in the U.S. include Lake Havasu, Arizona, Fort Lauderdale, Florida, Daytona Beach, Florida,and South Padre Island, Texas.
Is there a spring break where you live? What are the most popular "party destinations"?
– Lucy
Photo Credit: Beach Party Annette Funicello Frankie Avalon Mid-1960s.jpg from Wikipedia