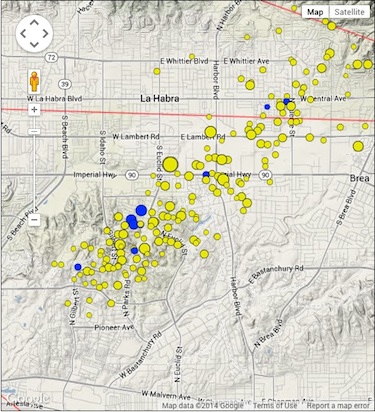 I had never sat on top of an earthquake. Until last Friday.
Last Friday evening was interrupted (to stop someone from doing what they were doing) by what sounded like the rumble (deep sound) of a large truck outside our house, followed quickly by what felt like a giant hand angrily shaking the house.
It happened again an hour later. Only this time the truck was much larger and the hand much stronger and angrier.
We had experienced the beginning of a series (one happening after another) of earthquakes, more than 200, which have continued through (including) today.
Fortunately, these were not major** or strong earthquakes. The first was a minor 3.6 on the Richter Scale (a measure of the strength of an earthquake). The second, the largest, was a moderate 5.1 earthquake. And Saturday afternoon there was a light 4.1.
Fortunately, Friday night's earthquakes caused only minor damage. Store windows were broken. Large cracks (narrow spaces between two parts) appeared in the walls and foundations (the layer of cement or other material that a building stands on) of some houses and apartment buildings. Water mains (large pipes cities use to distribute water to different neighborhoods) were broken. Many items on the shelves of stores in the area were shaken onto the floor. And many, like us, had books, vases, and other items knocked off of shelves in our houses.
We've lived in California for 27 years and have experienced many earthquakes. California, as you may know, is sometimes called "earthquake country." Shortly after we moved to California, we experienced the Whittier Narrows earthquake, a 5.9 earthquake in the city next to ours, which killed eight people and caused millions of dollars of damage.
Two things made these earthquakes different from our previous experiences. First, the largest of them, the main earthquake, was very nearly under our house. The epicenter (the point directly above an earthquake) was only about 1 to 2 kilometers away. Second, many of the more than 200 aftershocks (a smaller earthquake that occurs after an earlier large one) were very shallow (near the surface of the earth).
These two factors (something that causes a situation) – the nearness of the earthquakes and their shallowness – dramatically (greatly) changed our experience. Because we were so close, we experienced more of the earthquakes' force, or energy. An earthquake's force dissipates (becomes less) rather quickly as you move farther away, and you experience less of it. And when an earthquake is near the surface, its energy is concentrated (held together) in a smaller area. So for us, these earthquakes have seemed (appeared to be) much louder, stronger, and more violent than stronger earthquakes we have experienced from farther away.
As you may imagine, the earthquakes of the last few days have given us an unsettling experience (made us feel uneasy). You never know when the next one will hit (occur, happen). And when it does, you always wonder how strong it will be and how long it will last.
* Too close for comfort = to be dangerously close. For example, "That car almost hit me! That was too close for comfort."
** Minor earthquakes are from 3-3.9; light are from 4-4.9; moderate are from 5-5.9; strong are from 6-6.9, and major from 7-7.9.
~ Warren Ediger – ESL coach/tutor and creator of the Successful English web site.
Photo: map of recent earthquakes near La Habra, CA courtesy of SCEC.