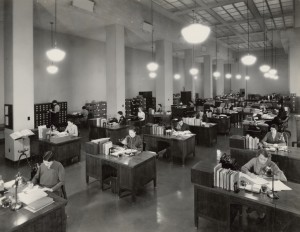 The French philosopher Jean-Paul Satre once famously said, "Hell is other people." I'm not sure who poor old (unfortunate) Jean-Paul's neighbors, friends, or coworkers (people who work at the same place you do) were, but obviously they were not exactly ideal (perfect; the best possible).
There's no question (no doubt) that getting along with other people can be difficult, especially when you are at your job. A recent article tried to look on the bright side (focus on the positive) of bothersome (causing trouble) coworkers and suggest ways that these types of people can actually be helpful. I'm not sure if I'm buying that argument (am convinced; agree), but I thought I'd talk about a few common terms used for these difficult types of coworkers in the U.S. Perhaps you know someone who fits (is similar to) one of these descriptions:
A social butterfly is a person who likes to talk a lot, be around other people, attend parties and other social events, and meet and know a lot of people.
A gossip is someone who likes to talk about other people, even if what he says isn't true. You can have a social butterfly who just likes to chat (talk informally), but who may also be a gossip.
A workaholic is someone who works too much, and is always thinking about work, even when not working.
Malcontents are people who are generally unhappy and who may find ways to do things they are not supposed to do, or may express their unhappiness in other ways.
Someone who is passive-aggressive is someone who shows her unhappiness in small ways, rather than confronting (meeting face-to-face or openly) the person who is making her unhappy. A passive-aggressive person might misplace (lose temporarily) important papers, not return your phone calls, or "forget" to do the things she promised to do for you. So, it's possible for someone to be a malcontent who is passive-aggressive. Even worse, this person could be a workaholic who is a passive-aggressive malcontent!
A narcissist is someone who believes everything should be focused on him or her, believing his or her own ideas, views, and beliefs are the most important. A person who is a narcissist might attract people who are suck-ups.
A suck-up is willing to say or do things — such as compliment someone a lot or say how great he is — to get an advantage in the workplace.
Backstabbers are people who pretend to be friendly with you, but make critical (disapproving) comments or do things to harm you when you're not around.
Who do you think are the most disruptive (interfere with your work or cause the most problems) where you work: social butterflies, gossips, workaholics, narcissists, malcontents, suck-ups, backstabbers, or passive-aggressive people?
– Jeff
Photo Credit: Photograph of the Division of Classification and Cataloging