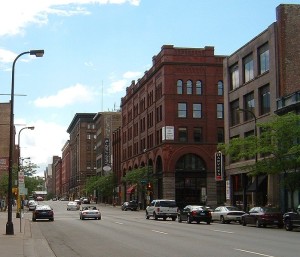 To many people, the word "gentrification" is a dirty (offensive; vulgar) word. Gentrification refers to a change in an urban (city) area with new businesses moving in and housing prices going up, creating a more wealthy (rich) community than was there before. The reason the term "gentrification" is generally considered a negative one is that conventional wisdom (what most people believe) is that this change in a neighborhood pushes out (causes someone to have no choice but to move away) old residents (people who live there) and businesses, changing the character (the things that make something unique or special) of the community.
But is that really true? Several recent studies, including one conducted at Columbia University about the famous New York neighborhood Harlem, which is currently undergoing (experiencing) gentrification, gives us a different perspective (point of view). (To hear more about Harlem's gentrification, listen to English Cafe 411.)
At least in terms of people being displaced (caused to move), these studies found that people who were there before a neighborhood's change didn't leave, and in many cases, stayed longer than those in neighborhoods that didn't undergo gentrification. This may be because the community becomes more attractive and those already there do what they can to stay. There are often more parks, better schools, and safer streets, so those who are able choose to remain in the neighborhood. New housing and space for businesses are created by converting (changing for a new use) old industrial (used for manufacturing, such as factories) buildings into livable (able to be lived in) and workable (able to be worked in) spaces, augmenting (increasing) the amount of space available in the community.
It's certainly true that some rents (how much people pay to live in a home or operate a business out of a property) go up, and both businesses and people can be displaced. But the idea that this happens on a grand scale (in large numbers) doesn't seem to be supported by these recent studies.
Are there any areas in the cities you're familiar with that have undergone gentrification? What has been the reaction of the old residents? In your opinion, has gentrification changed the character of those areas?
– Lucy
Photo Credit: Minneapolis Warehouse District from Wikipedia