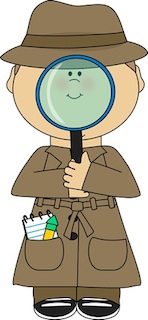 Reading and listening – as we all know – are the keys (the things that make something possible) to better English. Better English is the result of spending as many hours as possible with interesting, easy-to-understand podcasts, blog posts, and … books.
If you're like many of my students, finding a good book can be a challenge (something that tests your ability). So today I want to show you how to find a good book using a little online detective work (efforts to discover information).
When you think about books you've read, which book was your favorite? Which book stands out (is easy to remember) because it was easy to understand and interesting to read? Let's start with that book and try to find one that's similar to it. I'm going to use Holes by Louis Sachar as my example.
Begin by going to the Goodreads web site. When you get there, take a moment to create an account – it only requires your name and email address. Then return to the home page and put the title of your book in the search tool at the top of the page. When you get the search results, click on the cover of your book – it should be at the top of the list – and Goodreads will take you to the book page for your book. This is where your detective work will start.
On the book page, there are three places to find ideas for your next book. Near the top, in the right sidebar (narrow area on the right side of the page), you'll see Readers Also Enjoyed – about 15 books that other people who read your book have also enjoyed. Often these books will be similar in some way to the book you began with. Click on the arrow to see all 15 of them.
If you scroll (move the page) down a little, you'll find Lists with This Book. For Holes, one of the lists is Best Young Adult Books, another great place to look. Click on any of the books you see to get the complete list. There may be other helpful lists for your book.
If you scroll down a little more, you'll find Books by Louis Sachar in the right sidebar. Reading several books by the same author is a good strategy for language development, so I often tell my students to look here first.
When you find a book you think you might enjoy, click on its cover to go to the book page, read its description, and read some of the Community Reviews to see what other readers have said about it. After that, if you're still interested, you'll want to read an excerpt (short part) of the book for yourself.
There are two ways to find an excerpt from a book you're interested in. First, Goodreads provides excerpts from many books. When they do, you'll find a "Read Excerpt" button below the the book cover. When you click on it, you'll be taken to the beginning of the book.
If Goodreads doesn't have an excerpt, look for "Get copy" – it's near the cover of the book – and click on "Amazon"*. When you go to Amazon's book page, you'll usually see "Look Inside" on the cover of the book. If you do, click on the cover, then click on "First Pages" to go to the beginning of the book.
This process may take a little time at first, but my students tell me that it works well for them. Happy hunting! And happy reading!
*Suggestion: If you see "Get copy: Barnes and Noble", use the circular arrow at the top of your browser to reload the page; "Barnes and Noble" should change to "Amazon".
~ Warren Ediger – ESL tutor/coach and creator of the Successful English web site.
Clipart courtesy of MyCuteGraphics.