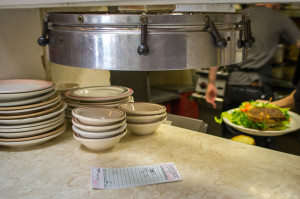 With the start of a new year, new laws go into effect (are now required to be followed). A new law in California has chefs (professional cooks) and bartenders (people whose job it is to serve drinks, especially alcoholic ones, usually at a bar) seeing red (angry; upset).
The new law requires anyone who handles (touches) food that is ready to eat — that does not need to be further (additionally) cooked or reheated (made warm again) — wear disposable gloves (rubber covering over the hands that are thrown away after one use) or use tongs, scoops, or other implements (tools). No bare hands (hands without any covering or protection) are allow to touch the food, even if the hands were just washed clean. The law is intended to improve the health and safety of food served to customers.
This means that bartenders who prepare drinks and add small pieces of food, herbs (plants used to add flavor), or garnish (piece of food added for decoration) must wear these gloves when preparing and serving drinks. This also applies to (is required of) chefs.
You may know that sushi — a type of Japanese cuisine (type of food) that includes rice and raw fish — is very popular here in California. Well, sushi chefs will also need to wear gloves or use implements, and they aren't very happy about it.
Note that in most places in the U.S., food handlers (people who touch food before it is served) in places like restaurants must also wear covering over their hair and (for men) facial hair (that is, mustaches and beards). Both men and women usually wear a hairnet over their hair and facial hair or a close-fitting (tight) hat.
Are there laws of this type where you live? What types of laws are required of food handlers and food servers?
– Lucy
Photo Credit: Restaurant Order Wheel from Wikipedia