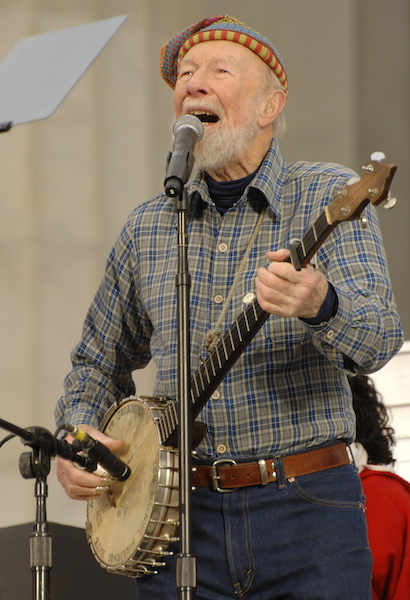 We shall overcome,
We shall overcome,
We shall overcome some day.
Oh, deep in my heart
I do believe,
We shall overcome some day.
Pete Seeger, the musician who helped make We Shall Overcome (to fight against something and win) the anthem (a song identified with a particular group or movement) of the American Civil Rights Movement, and of other civil rights movements around the world, died last week at the age of 94.
Seeger was a folk musician who played an important part in the American folk music revival (when something becomes active or popular again) of the 1950s and 60s. Folk music is music of the people, music that tells their stories. It's music that people participate in, not just listen to.
Seeger sang and played the banjo, a musical instrument with 4-6 strings stretched across a round body and a long neck similar to the neck of a guitar (see the photo on the right). Banjos became popular in the mid-19th century (1800s) and became an important part of American music, like ragtime, early jazz, country, and bluegrass.
In Seeger's hands, the banjo became a "machine [that] surrounds (to be all around something, on every side) hate and forces it to surrender (to stop fighting)" – words he wrote on the body of his banjo.
Seeger dedicated (gave, committed) his long life to working and singing to influence (affect the way something develops) social issues. In the 1940s he supported the organization of labor unions and America's involvement in World War II.
In the 1950s he opposed (disagreed with and worked against) McCarthyism, a campaign (actions intended to achieve a particular result) led by Senator Joseph McCarthy against people in government and other parts of American life who might be communists. Many people were blacklisted (put on a list of disapproved people) and lost their jobs even though they weren't communists.
In the 1960s he brought his voice and his music, including We Shall Overcome, to the Civil Rights Movement. And in the late 1960s he joined the protests against the Vietnam War.
Some of Seeger's songs became very popular. Where Have All the Flowers Gone?, sung by the Kingston Trio, reached the Top 40 (the 40 most popular songs in the country) in 1962. A short time later Peter, Paul and Mary's version (way of doing it) of If I Had a Hammer made it to the Top 10.
If you want to hear Seeger perform some of his own music, Rolling Stone has compiled (put together) 20 of his most important songs. On each page there is a brief story about the song. As you listen, notice how, in good folk music style, the audiences often sing along with him.
If you only have time to listen to a few, try these: If I Had a Hammer, We Shall Overcome, Where Have All the Flowers Gone?, and This Land is Your Land.
Someone once asked Seeger who he was intending (to have in your mind as a plan) to overcome. He replied, "For me, it means the entire world. We'll overcome our tendencies (the way we often do something) to solve our problems with killing and learn to work together to bring the world together."
*The idea for this title comes from an article by Andrew Cohen. The soul is the part of a person that contains their character (who they really are inside), thoughts, and feelings.
~ Warren Ediger, ESL tutor/coach and creator of the Successful English web site.
Photo courtesy of Wikipedia Commons