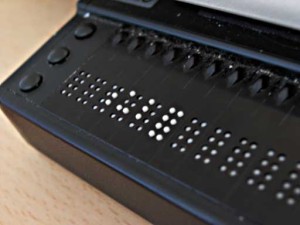 I am a convert (someone who didn't believe but now does). For a very long time, I resisted reading electronic books. I like the look of physical books, I like the smell of them, and I even like the little yellowing that occurs on the pages in old books.
But a couple of years ago, I broke down (finally gave up) and bought an electronic book reader and downloaded reading apps (computer programs used most often with smartphones and tablet computers) onto my smart phone. Almost from the first (immediately), I could see the benefits of ebook reading. I can carry a lot of books around with me, I could change the fonts, and I could even read in low (not bright) light.
What I didn't realize until recently is that ebook technology has also changed how the blind (people unable to see) read. Most Americans who are blind learn to read using the braille system. The braille system uses a series of dots (like a period " . ") that represent letters. Each set of dots is called a "cell" and dots themselves are referred to as "raised dots," with "raised" meaning higher than the area around it.
Using a device (electronic piece of equipment, usually a small one) called a refreshable braille display like the one in the photo above, each cell changes as the device "reads" different text. For example, one dot raised in the left corner of a cell represents the letter "a." When the refreshable display is attached to a computer or similar device, the display turns the text into braille.
That's where current technology comes in. New reading apps allow readers to download books they want to read onto a smartphone, tablet, or computer. When these devices are connected to a refreshable braille reader, a blind person has access to anything a sighted (not blind) person does. This has opened a larger world of reading for the blind.
We have the Frenchman Louis Braille to thank for the braille system, and technology and app developers (people who create apps and computer programs) to thank for opening up this new resource for an entire population of readers. I have an even greater appreciation of these advances knowing what they have achieved.
Is the braille system used in the languages you know? If not, what systems are used?
– Lucy
Photo Credit: Refreshable Braille Display from Wikipedia