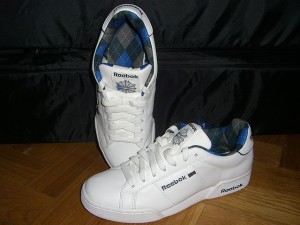 One of the difficulties in learning a second language is the fact that, in most languages, there are different words for the same concept or idea. People in the United States, for example, often use different words to describe the same thing, depending on where they live. Most Americans know the meanings of these different words even if they don't use them themselves, but these variations can be very confusing for a non-native speaker (someone who didn't grow up speaking the language).
For example, the photo you see here is a pair of shoes that have rubber soles (bottoms) on them, usually used for athletic events or exercise. What are they called? In most states in the U.S., they are called "tennis shoes," even though we use them for more than playing the sport of tennis. However, if you live in the northeastern part of the U.S., in a region called New England, they're called "sneakers." Oh, and if you live in Chicago  or Cincinnati (both in the Midwest), you would call them "gym shoes" (gym stands for gymnasium, a place indoors (inside a building) where people play sports). Same shoes, three different terms.
Figuring out (discovering) these variations in language use has become much easier with the Internet. Linguists can ask people from different parts of the country what they call various items, and then map these differences and see which words are used in which region or area.
A couple of researchers at Harvard University collected responses (answers) to dozens of questions on language use from more than 350,000 Americans last year. Here are some of the things they found:
A large motor vehicle used to carry freight (goods (things to be sold) moved from one place to another) (see photo below) is called either a "semi" or a "semi-truck" in most parts of the U.S. (the "i"of "semi" is long, pronounced like "eye"). But if you live in Louisiana (in the central, southern U.S.), you would call it an "18-wheeler" (the number of wheels that many of these trucks have). And in New England, they're know as "tractor-trailors."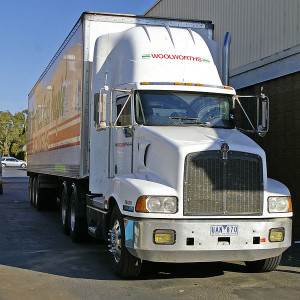 When you have a sale of old things you want to get rid of at your house, you would call that a "garage sale" in large parts of the U.S., including the central regions of the country (a garage is an enclosed (with walls and a ceiling) area to keep your car). In most eastern states, "yard sale" is the preferred term, except in western Massachusetts and Connecticut, where it is called a "tag sale" (a tag is normally a small piece of paper that has the price of the thing being sold). In the West, both "yard sale" and "garage sale" are used, depending on which city you're in. Here in Los Angeles, most people would call it a "garage sale," but in Tucson, Arizona, 500 miles west of here, it's more commonly called a "yard sale." "Yard sale" is popular in Salt Lake City (Utah) and Fresno (central California), but "garage sale" is used in San Francisco, Seattle (Washington), and Portland (Oregon).
One of the clearest and easiest differences to detect (notice) in American dialects (different ways of speaking the same language) is the term used to address or get the attention of a group of two or more people. In the South (which is actually the southeastern part of the U.S., including Texas), the term is "y'all." In every other part of the U.S., it is "you guys" ("guys" here meaning both males and females). If you meet someone who says "y'all," you can be pretty sure he or she is from the South.
Sometimes dialectical differences are found in one small area of the country. In Minnesota, for example, you say "you betcha" to indicate that you agree with the other person, or simply as an informal way of saying "yes."  In other places in the U.S.,  you would probably say "you bet" or "sure."
Is all of this very confusing? You betcha!
~Jeff
Photo credits: Athletic Shoe, Woolworth's Truck