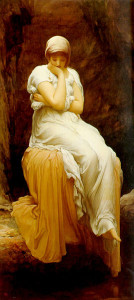 Everyone feels lonely sometimes. One researcher in a recent Wall Street Journal article defines loneliness this way: "Loneliness is the feeling of social isolation or dissatisfaction with your relationships." Isolation is the feeling of being apart or separate from other people, and you can feel social isolation even when you're in the middle of a crowd (large group) of people.
In a 2010 meta-analysis (detailed study of published research) of 148 studies (research papers or books) that included more than 300,000 participants, researchers found that feeling lonely is a very strong predictor (factor that can tell what will happen in the future) of mortality (death). In fact, people who are lonely are just as likely to die an early death as people who are alcoholics (addicted to drinking alcohol) or who smoke 15 cigarettes a day. Being lonely is worse for your health than even obesity (being very fat or overweight).
Unfortunately, people in the U.S. are reporting (saying) that they are lonelier than they have been in the past 20 or 30 years. One reason for this doubling (twice as much) of reported loneliness — from 20% in the 1980s to 40% now — may be that more adults are living alone. In 1970, 17% of Americans reported living alone, while 27% lived alone in 2012. It may also be that people spend more time in front of screens — on their computer, smart phone, or tablet — doing solitary (by yourself) activities than in the past.
Psychologists say that there is nothing wrong with being alone or doing things by yourself. It's your mindset (way of thinking) that matters (is important). Realizing that others care for us and that we matter helps to reduce the feeling of loneliness. Looking for opportunities to interact (talk or do things) with others also help.
I'm not a psychologist but since we all feel lonely sometimes, I'm prescribing (giving you a medical treatment) for everyone reading this to visit our blog if you're feeling lonely. Your opinions are always valued, and like any good friend, if we disagree with you, we'll only tell you're a bonehead (an informal and slightly funny word for a stupid person) in the most affectionate (with kind and loving feelings) way.
– Lucy
Image Credit: Frederick Leighton – Solitude.jpg from Wikipedia