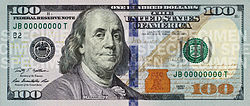 Would it surprise you to know that the U.S. government has $18 billion that rightfully (legitimately; according to the rules) belongs to Americans? It's true.
The U.S. government has a substantial (very much; very high) amount of unclaimed (not asked for; not collected by the owner) cash.
The first category of money that belongs to Americans is money that people have paid or lent (given as a loan) to the government but have failed to (not) ask to get back. This includes savings bonds and tax refunds.
Savings bonds are a type of investment sold by the government when it needs money to pay its debt (money owed to someone else). People buy these securities (investments) in different denominations (amounts of money), from as low as $25 to as high as $10,000. After (at least) six months, these bonds can be cashed in (traded for money) to get the original investment back plus a little extra in interest (a percentage of the money loaned). These bonds are considered very safe investments because they are backed by (supported by) the government. But some people buy savings bonds and then never cash them in! That's a large part of the money the government owes Americans.
A tax refund is money that you've paid the government through your job, but because you've either (a) paid too much to the government in taxes, (b) made very little money that year, and/or (c) had special circumstances (called deductions) that allow you to not pay as much in taxes, you should get back from the government after you file your taxes (officially submit your tax documents, usually by April 15th of each year). But, again, some people never ask for their tax refund, and that's also part of the money the government has that belongs to Americans.
Another large sum (amount) of money is related to lawsuits, where you take a dispute (argument) to court and let the court decide who is right. In the U.S., there are many class-action lawsuits, which are cases where a company is sued (asked to pay money) on behalf of (for) an entire group of people whom the company has wronged (treated unfairly), such as customers who bought a bad product or a group of people hurt by a company's action. Oftentimes (frequently), the money that is awarded (given to) to the group of people suing is in a lump sum (one large amount), which should then be divided among (split and given to) the people in the group. Usually, the amount each individual is supposed to receive is very small, such as $2 or $5. Some people don't even know they have been included in (are part of the group for the) class-action lawsuits and never claim their money. Others don't bother claiming such a small amount. All that money remains with the courts (that is, the government) until it is claimed.
If you think the government owes you money, there are websites that can help you get your money back, such as this one and this one. If you get any money back, I will only claim half.
– Jeff
Photo Credit:  New100front from Wikipedia