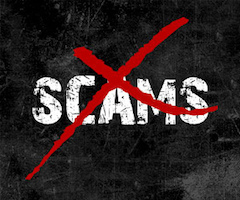 It started when I received an email from a company from another country – I'll call them ADRS. ADRS claims (says something is true) to be a domain registration service (a business that helps other businesses). When you operate a web site, you have to register (put on an official list) your domain name – like eslpod.com or successfulenglish.com – and pay a small fee (amount of money) each year to protect it so no one else can use it.
In the email, ADRS told me that a company from their country wanted to register "successfulenglish" to use in that part of the world. And they wanted to know if I had authorized (said it's okay) them to do so.
I replied with a short email that said "'Successful English' is protected by U.S. trademark (a special business name or sign that can't be used by other businesses) laws. I have not, nor do I intend (plan) to authorize anyone else to use it."
Later that day I received a second email from ADRS. In it they included a list of "successfulenglish" domain names with different top-level domains (such as .org, .net) and country codes (such as .us (U.S.), .cn (China), .ru (Russia)). They asked me if those names were important to me and suggested that I register all of them with ADRS to protect them and avoid confusion.
Suddenly it struck me (I realized, understood): I was being scammed! Or, to use an older word, I was being conned. The person who wrote me the email is what we call a confidence artist – sometimes called a con artist or con man. He tried to get my confidence (trust) by asking if I had given another company – probably not a real company – permission to use the "successfulenglish" domain name in that part of the world. And he acted like he wanted to help me protect my brand name (the particular business name I use). The truth is, he just wanted my money.
According to Wikipedia, "confidence man" was first used in about 1850 in New York City to describe William Thompson. Thompson was accused (to say someone is guilty of a crime) of chatting (talking casually) with strangers he met until they seemed to be comfortable with him. Then he'd ask them if they trusted him enough to loan him their watches. When they did, he walked off with the watches. He was caught when one of his victims recognized him on the street and alerted (informed) the police.
The last few years there has been an infamous (well-known for something bad) telephone scam here in the U.S., called the "Rachel from Cardholder Services" scam. People would receive robocalls (automatic recorded telephone messages) from a pleasant-sounding woman who identified herself as "Rachel from Cardholder Services." She would encourage the listener to push "1" on their phone to learn how to get lower interest (the extra money you pay when you borrow money) rates (amount in percent) on their credit cards.
People who responded (did what she suggested) to Rachel's call were connected with a sales person who tried to get them to pay $500 to $1500 to receive the low rates. Unfortunately, once they got the money, they did nothing. Fortunately, the government stopped the scam last year and fined (made to pay money as punishment) the people involved in it more than ten million dollars.
Have you had experiences like these? Are robocalls a problem where you live?
~ Warren Ediger – ESL coach/tutor and creator of the Successful English web site.
Photo by ivanpw used under Creative Commons license.