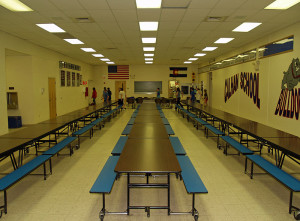 If you attended (went to) a public K-12 (kindergarten to grade 12, for children ages six to 18) school in the United States, you probably ate a lot of school lunches. Most medium to large-size schools in the U.S. have cafeterias where students go to eat a hot lunch in the middle of their school day. The cafeteria usually has a lot of long tables and chairs where students eat. Students pick up a lunch tray (large, flat plate with compartments or sections for several different kinds of food) and stand in a cafeteria line where the lunch servers put meat, vegetables, and a drink onto their plates. In some schools, parents pay for the lunches in advance so that students only need to show their lunch cards as payment.
A lot of attention has been given to school lunches in recent years because many say that the food served to students is unhealthy (bad for your body). Typical school lunches include pizza, hamburgers, and chicken fingers (deep-fried pieces of chicken meat).
From the students' perspective (point of view), school lunches have a reputation of being unappetizing (not looking delicious; not making you want to eat it). The term "mystery meat" is often used to describe what students are served because it is not easily identifiable (able to say what it is) as being beef, chicken, pork, or some other commonly-served meat.
The website DoSomething.org, an organization that is trying to get young people to speak their minds (give their opinions) and to change things around them, recently asked students to post pictures of the school lunches in a project called "Fed Up." If you're fed up, you're tired of something and won't tolerate it anymore. Other students viewing the lunches can vote to "eat it" or "toss it" (throw it in the garbage). Students posting photos also fill out a survey about their school lunches and preferences, giving the website information about students and their eating habits.
You can see some of these "delicious" meals by visiting the Fed Up project website. Looking at it, I can see that little has changed since my own school days.
Do schools where you live serve hot lunches to students? Is there a general loathing (intense dislike) by students for school lunches as there is in the U.S.? What types of food is commonly served?
– Lucy
Photo Credit: Calhan Colorado High School Cafeteria from Wikipedia