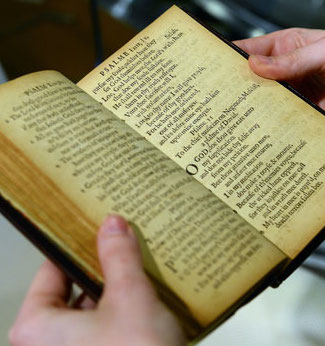 Happy Thanksgiving! I want to echo (repeat) what Lucy wrote Tuesday and say how thankful I am for all of you who are a part of the great ESL Podcast family.
This year, while many in the U.S. were thinking about slices (a piece of food cut from a larger piece) of Thanksgiving turkey and pumpkin pie, a small slice (piece) of early American history was sold for millions of dollars.
The Pilgrims – who celebrated the "First Thanksgiving" in America – came from England in 1620. The Puritans, a similar group, followed them in 1630. Both groups were very religious (believed in God) and believed in personal religious freedom and responsibility (doing what is right). They were both dissatisfied with the Church of England, which was the official and only church in England at that time, so they left England and came to America.
Singing was an important part of Puritan worship (praying and singing together to show respect for God). And the Puritans wanted a new translation of the Book of Psalms (songs or poems used in Jewish and Christian worship) to use. Thirty religious leaders translated the psalms from Hebrew, their original language, into English verse (with lines like a song). And in 1640, 1700 copies of the Bay Psalm Book were printed.
Tuesday, one of the original (first or earliest) Bay Psalm Books was sold for more than 14 million dollars, the most anyone has ever paid for a printed book. It was sold to an American businessman and philanthropist (wealthy person who gives money to help other people) who plans to loan it to libraries around the U.S. so many people can see it.
Why would someone pay so much for one of these little books? What is so significant (great or important) about it? There are several answers. First, it was the first book printed in America. And it's rare – only eleven copies have survived (continue to exist).
David Redden, who organized the sale, says the Bay Psalm Book is significant for another reason. He says it reminds us how independent (not controlled by someone else) the early colonists were. They left their homes in England, came to America, set up (organized) their own society (organized group of people) with their own religious practices, and later – in 1776 – declared (stated) their independence from England and created a new country.
The Bay Psalm Book was sold by the Old South Church in Boston to help pay the church's expenses. The church owned two copies of the Psalm Book, so members of the church decided it would be okay to sell one of them.
Old South played an important part in (influenced, had an effect on) American history. Benjamin Franklin's family were members of the church. And so was Samuel Adams. Both men were important early American leaders. Many of the early leaders met at the church to plan activities, like the Boston Tea Party, that helped America become independent.
~ Warren Ediger – ESL tutor/coach and creator of the Successful English web site.
Photo of the Bay Psalm Book courtesy of the BBC