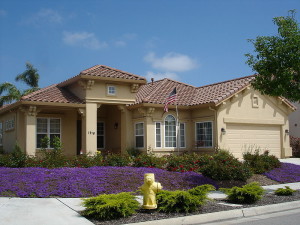 When the housing market is hot (very active, with many buyers and sellers), people line up (wait, ready to act) eagerly for new construction (newly built) homes. These homes are often built in large numbers in one location (called a housing development) with many of the homes looking alike (the same). Housing developments crop up (appear suddenly) all around medium and large cities to accommodate (house) people moving there for jobs and other opportunities.
In a slow (not active or busy) housing market, housing developments are still being built, but buyers aren't as eager to buy, and that's why home builders offer incentives — extra good things — to entice (attract) buyers. These incentives include cash (money) and upgrades (more or better than the basic).
For example, builders may offer to pay some of the closing costs associated with buying a home. In the U.S., when you purchase any property, there are taxes and fees that the buyer and seller have to pay as part of the transaction (exchange or purchase). They include fees for inspecting (closely examining, looking for problems or whether laws have been followed) the home, for the costs of registering the sale, and for insurance. These closing costs are approximate 2 to 5% of the price of the home. That's a lot of money! Some builders are offering to pay some of those closing costs as an incentive to get people to buy their houses.
In terms of upgrades, builders are offering many things to make homes more attractive to buyers. These include free appliances, such as refrigerators, ovens, and washers and dryers. They offer better flooring (material that covers the floors), so that, for example, instead of carpet, you get hardwood floors. They may offer more expensive window coverings, such as wood shutters (wood panels to block out light on the inside of a window) and blinds (window covering that can be pulled up or down for more or less light, or that has moveable slats (small sections) to let in light).
Are incentives commonly used in real estate (the business of buying and selling homes and other property) where you live? If so, what kind?
– Lucy
Photo Credit: Ranch style home in Salinas, California from Wikipedia